Hey everybody! It's Saige. Recently, Wendy and I attended Nashville Blogger Bash. WOW! What an experience it was. The Nashville Blogger Bash is a weekend conference that connects a diverse group of digital content creators, including bloggers, social media influencers, podcasters, vloggers, and digital marketers. Inspirational, badass women and men were around each corner, from dynamic blogger Michelle Ferreri to The Curvy Fashionista creator Marie Denee. There were so many great snippets of information shared that lit my soul on fire, and I want to share them with you!
Find out who you are. And do it on purpose. – Dolly Parton
Money is the after-effect of passion.
Your mindset is the ONLY thing holding you back.
Replace the world sell with share.
Do not lose your AUTHENTICITY.
Invest in you to invest in your business.
You have a reputation and THAT'S value.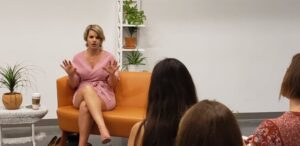 My overall takeaway from Nashville Blogger Bash: Never stop learning. Never stop growing. No matter how much you believe you know, the world never stops providing opportunities for you to grow, and your mind craves it! If you are currently blogging, keep it up, and I hope this inspires you to continue. If you aren't blogging, think about starting one because the effects are more than you've ever dreamed!