4 Tips For A Great Holiday Marketing Strategy
You may be thinking, 'It's summertime, what is Navarro Creative Group doing talking about the holidays?'. Well, friends, the holidays will be creeping up on us before we know it and we want you prepared for your best sales of the season! The National Retail Federation (NRF) reports, "each year, about 40 percent of consumers begin their holiday shopping before Halloween." That's right, BEFORE HALLOWEEN! For the most effective marketing, begin at least six months in advance, this allows you ample time to create consistent and concise messaging, devise a schedule, and plan delivery methods. Once the rush of the holidays comes, you can breathe knowing that you have set your marketing, and press GO!  Ready to start planning? Continuing reading, "4 Tips for a Great Holiday Marketing Strategy".
1. Set Your Goals
Before you can begin executing your marketing, it is essential to set your holiday S.M.A.R.T (specific, measurable, attainable, realistic, and time-bound) Goals. Setting S.M.A.R.T goals will help you to refine your ideas, define the purpose, and shed light on what marketing messages and avenues you need to focus. It will also allow you to use your time and resources wisely and follow how successfully your marketing strategy is working.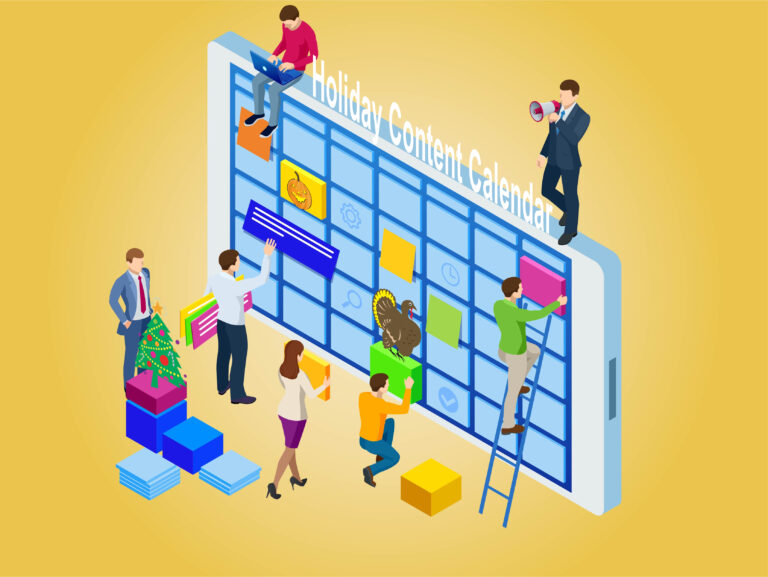 2. Prepare your Content
It is never too early to begin creating your holiday-specific content. Now is the time to organize your photos, videos, and graphics so that you are prepared to publish them to your website, social media pages, and newsletters in time for the holidays. If you work with an agency or graphic designer, schedule a planning session so that they can design great content and print collateral that will make your message stand out!
Content calendars are a lifesaver, too and will help free up a lot of your time. They keep on track and are a great way to stay organized so that you don't forget when specific posts or events need to be published. Being prepared with social media posts ready to go live and an email blast scheduled will guarantee that you don't forget anything during the rush of the holidays.
3. Advertise
It is never too early to start advertising your holiday events. By starting early, you allow extended exposure to your event, which may mean more reach and interest. One of our favorite forms of advertising is Facebook Ads. If you are marketing an event, start by creating a Facebook Event page and use Facebook Ads to gain exposure. Be sure also to add your event to community magazines, and online calendars, and remember to UPDATE YOUR WEBSITE!
4. Increase Exposure
During the holidays you want to get as much exposure as you possibly can so you can have your best sales of the season. Be sure to:
Update your email list. Subscribers have already indicated that they are interested in your product or service by signing up on your email list. Be sure to keep them in the loop and informed about your activities, events, and sales.
 Collaborate with community organizations and like businesses. Cross post content on each other's Facebook pages and other social platforms so that you can reach a new audience and clientele.
 Consider throwing an influencer get together. Invite local influencers to get to know you, your business and/or event and write about it on their social pages or Blogs. Be sure to reach out to influencers with a large following which consists primarily of your target audience.
Need more ideas on how to Plan Your Holiday Marketing Strategy? Let's Talk! Contact us about how we can help your business.
website design | e-commerce sites | logos & graphics | social media
I recently had a conversation with a new client about social media and we starting taking about using images from the internet, i.e. Google Search copy and paste. My reaction may have startled her a little because it was pretty immediate - DO NOT DO THIS! ? Images may be subject to copyright and those that are, and are used without consent, are subject to copyright infringement and potential legal action!
Yes, we know "everyone does it" but not really. Everyone who knows better does NOT do it. Fines for copyright violations are H E F T Y and by violating those rights you're also stealing from a photographer, a designer, a graphic artist etc. and yes, maybe even another small business who is trying to make a living. Betcha didn't think about that.
So, STOP ?! Change your ways and follow these tips on how to create GREAT posts that will get your message across without the worry of getting your a$$ets sued.
Tips to create great graphics for social media...the right way:
✔️ Subscribe to a royalty free service such as Adobe Stock Images or Shutterstock. Adobe Stock offers a free 30 Day Trial.
✔️ Check out Canva. This is one of our favorite "secret weapons" to create quick, professional looking graphics that don't require the deep dive of Photoshop.
✔️ Post a video of you instead. Video is one of the BEST ways to "speak" to your fans.
✔️ Use your own photos. We bet you have a smart phone. Well, today's phones have awesome picture, filter and effects capabilities and work great for social media posts.
Below are the links to the resources we mentioned. Have a favorite that you'd like to share? Drop it in the comments below. Have a question? Do the same.
Happy Businessing!!
• Adobe Stock Images: https://goo.gl/nSUaQX
• Shutterstock: https://goo.gl/rTzbWb
• Canva: https://goo.gl/LXC8H5
Think we're being dramatic (hey we like drama just as much as the next gal, but we like to keep ours in the theater) you'll think otherwise, and maybe thank us, when you read this.
The $8,000 Mistake...https://goo.gl/aGNBju
Being supportive of your community and finding ways to give back can be an exceptional business strategy. However, being a community partner has a bigger impact than just the bottom line. Read on to discover 4 Reasons Why Giving Back Makes Good Business Sense and How to Get Started.
4 Reasons Why Giving Back Makes Good Business Sense
You deal with neighborhood projects in areas that your clients frequent. When you are involved in things that are meaningful to the community at large and the people you serve, it deepens your connection with them as well as enhances your link with potential consumers.
Getting your employees involved with community work is an amazing way to build partnerships. Your employees most likely live where they work, so it's an excellent way to get them involved in helping their community.
Finding the right community job could reveal the strengths of your business. When you participate in a task that highlights what you and your company can do, you'll make an impact while revealing those qualities to other neighborhood neighbors.
Partnering with different organizations could produce connections that you may not have thought to form. Nonprofits aren't typically the only organizations that do community service; discover exactly what teams, as well as various other firms do to give back and how you could partner with them to enhance the initiative.
5 Ways Your Business Can Get Started Giving Back
If you're encouraged and believe that giving back makes good business sense, the next step is to locate the ideal project or venue. Think about the strengths of your business, your workers, and the needs of your community. Below are some examples of projects that might be great for your company.
If your office or shop is a place where people regularly come in and out, think about adding a collection container for a regional charity near the door or at your checkout counter. This is a budget friendly way to accumulate goods or cash that will stay local, and allows your customers to add to it conveniently.
Sit on the board of a not-for-profit. You can offer your expertise as a business person and volunteer time as opposed to money.
Challenge others to a competition. Coordinate with customers, colleagues, and other companies and challenge them to a donation race. Whoever raises the most money for either a chosen charity or organization that your company previously identified wins the contest. You can also think of a system of prizes for additional motivation if you want. The element of competition will have everybody contributing a whole lot more!
Instead of competing with your business's competition, attempt to collaborate with them. Mark a volunteer day and take a group to a neighborhood pet sanctuary, food pantry, or Habitat for Humanity build. This is a direct link to the community and a way to affect the neighborhood; and it could also improve the connection between you and your competiion. As an added perk, it helps you build connections with others in the neighborhood.
Let your customers know that your business gives back to the community. Inform them about the organizations you donate to, and the tasks you have actually assisted with on your web site, and social media networks. Some people like to do business with companies that give back to the neighborhood; even if they don't, they'll value understanding that you and your company are a positive presence in the community.
Just how crucial is giving back for small companies? Giving back to the neighborhood isn't merely a wise business strategy, it's also a way to develop loyalties and demonstrate that your business is making a positive impact in the community; a company who cares and is willing to put time and commitment into sustaining it.
Does your small company give back to your community? How does Giving Back Makes Good Business Sense for you?
Need help with your small business marketing or website? Contact NAVARRO CREATIVE GROUP and let's talk about ways that we can help you build your on-line presence and marketing strategy.
615.562.1002 | [email protected] | www.NavarroCreativeGroup.com
Connect With Us
4 Essential Strategies for Marketing Success
The foundation of your company's success depends heavily on marketing. Afterall, your business may provide the most effective product or service in your industry, but without marketing how would your potential customers find you?
1. Create A Marketing Strategy
When companies fail to create a marketing strategy, regardless of how great their product or service, without customers there are no sales.
What is a Marketing Strategy? A marketing strategy is an organization's strategy that combines all of its marketing goals into one comprehensive plan. A good marketing strategy should be drawn from market research and focus on the right product mix in order to achieve the maximum profit potential and sustain the business. The marketing strategy is the foundation of the marketing plan.(businessdictionary.com)

Any conversation about your business is an opportunity to promote your business and increase sales. Whether at a networking luncheon or during a strategy meeting with potential clients, a marketing strategy will help you identify different ways to talk to your customers so that you can concentrate on creating the most value for them while increasing sales for your business.
"Consumers do not buy what you sell. They buy what has value to them." - Peter Drucker
2. Be Seen
To do well, the product or service your business provides has to be seen by potential buyers. It is no longer an option for businesses to have a digital presence, it is imperative. By setting up your on-line presence, i.e. website, blog and social media you increase exposure to your business enormously; thereby, increasing your opportunity to be seen by your target customers, and ultimately increasing sales.
Worldwide, there are over 1.59 billion monthly active Facebook users which is a 14 percent increase year over year. (Source: Facebook as of 1/27/16) What this means for you: In case you had any lingering doubts, statistically, Facebook is too big to ignore.
3. Be Engaged
Once you have a website and are on social media, engage with your customers and clients DON'T JUST USE SOCIAL MEDIA TO TRY TO SELL YOUR PRODUCT OR SERVICE. Through creative use of social media, blogging, and content marketing you increase the opportunity to display the face of your business in the digital world, and when customers and potential customers like what they see sometimes they do the work for you by sharing your information with family and friends thru liking a page or post, sharing a product, tagging a friend, and forwarding information via email.
"Find a way to be personal with your customers and connect with them on a human level." – Andrew Reid, Founder, President and Chief Product Officer, Vision Critical
Five Ways a Business Grew 800-Fold With Social Media
4. Be The Expert
The success of a company often rests on a solid reputation. Marketing develops brand acknowledgment or product recall with a business. However, it is up to you to provide the information your clients are seeking and develop your reputation as the expert in your field. Use social media and your website to post information that is important to your clients. As your business becomes more familiar with the public your track record expands, business expands and sales boost. The credibility of your business is constructed through energetic engagement within the community, efficient interaction, as well as high quality service or products. When all elements are in place and are developed or supported by marketing initiatives the only place to go is up!
What Else You Need to Know
We've already established that marketing is highly important for a business to be successful; it can however, be expensive. In its initial year, a business may invest as much as half of its sales on marketing. After the first year, a marketing spending plan could reach as high as 30 percent-- occasionally more-- of the annual sales. A marketing plan that offers your business the best chance of success is a healthy and balanced mix of different marketing techniques, such as a website, social media, public relations, print and word-of-mouth.
Need help with your small business marketing or website? Contact NAVARRO CREATIVE GROUP and let's talk about ways that we can help you build your on-line presence and marketing strategy.
615.562.1002 | [email protected] | www.NavarroCreativeGroup.com
Connect With Us