4 Tips For A Great Holiday Marketing Strategy
You may be thinking, 'It's summertime, what is Navarro Creative Group doing talking about the holidays?'. Well, friends, the holidays will be creeping up on us before we know it and we want you prepared for your best sales of the season! The National Retail Federation (NRF) reports, "each year, about 40 percent of consumers begin their holiday shopping before Halloween." That's right, BEFORE HALLOWEEN! For the most effective marketing, begin at least six months in advance, this allows you ample time to create consistent and concise messaging, devise a schedule, and plan delivery methods. Once the rush of the holidays comes, you can breathe knowing that you have set your marketing, and press GO!  Ready to start planning? Continuing reading, "4 Tips for a Great Holiday Marketing Strategy".
1. Set Your Goals
Before you can begin executing your marketing, it is essential to set your holiday S.M.A.R.T (specific, measurable, attainable, realistic, and time-bound) Goals. Setting S.M.A.R.T goals will help you to refine your ideas, define the purpose, and shed light on what marketing messages and avenues you need to focus. It will also allow you to use your time and resources wisely and follow how successfully your marketing strategy is working.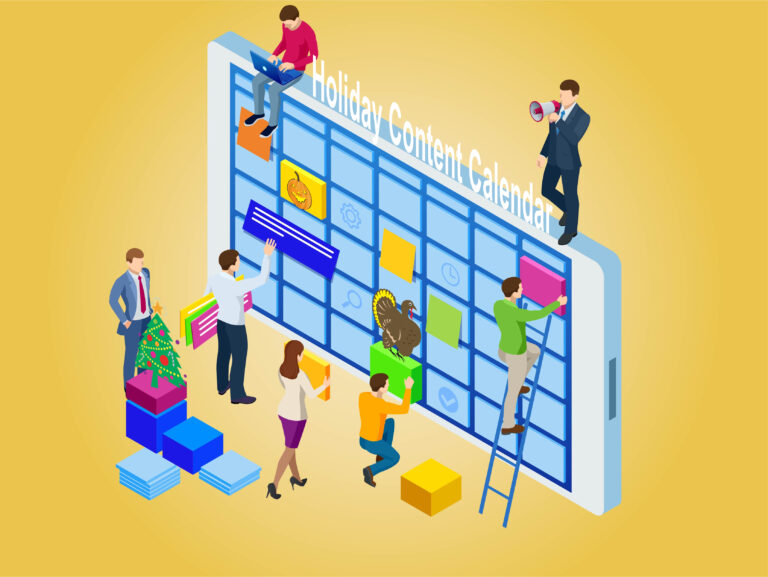 2. Prepare your Content
It is never too early to begin creating your holiday-specific content. Now is the time to organize your photos, videos, and graphics so that you are prepared to publish them to your website, social media pages, and newsletters in time for the holidays. If you work with an agency or graphic designer, schedule a planning session so that they can design great content and print collateral that will make your message stand out!
Content calendars are a lifesaver, too and will help free up a lot of your time. They keep on track and are a great way to stay organized so that you don't forget when specific posts or events need to be published. Being prepared with social media posts ready to go live and an email blast scheduled will guarantee that you don't forget anything during the rush of the holidays.
3. Advertise
It is never too early to start advertising your holiday events. By starting early, you allow extended exposure to your event, which may mean more reach and interest. One of our favorite forms of advertising is Facebook Ads. If you are marketing an event, start by creating a Facebook Event page and use Facebook Ads to gain exposure. Be sure also to add your event to community magazines, and online calendars, and remember to UPDATE YOUR WEBSITE!
4. Increase Exposure
During the holidays you want to get as much exposure as you possibly can so you can have your best sales of the season. Be sure to:
Update your email list. Subscribers have already indicated that they are interested in your product or service by signing up on your email list. Be sure to keep them in the loop and informed about your activities, events, and sales.
 Collaborate with community organizations and like businesses. Cross post content on each other's Facebook pages and other social platforms so that you can reach a new audience and clientele.
 Consider throwing an influencer get together. Invite local influencers to get to know you, your business and/or event and write about it on their social pages or Blogs. Be sure to reach out to influencers with a large following which consists primarily of your target audience.
Need more ideas on how to Plan Your Holiday Marketing Strategy? Let's Talk! Contact us about how we can help your business.
website design | e-commerce sites | logos & graphics | social media
What does Facebook's new algorithm change mean to small businesses?
It's been said before, and we'll say it again and again, "Social media is about being social". As a business owner, it is your opportunity to engage your followers - to discover what they want and need from you. So, what does Facebook's new algorithm change mean?
More than a billion people have joined Facebook, and today they share a flood of stories every day. With that in mind, the goal of Facebook's new algorithm change (06/29/2016) is to show people the stories that are most relevant to them; an update to News Feed that helps them see more posts from friends and family. AFTER friends and family, people have two other strong expectations when it comes to their News Feed and this is where small business owners need to pay special attention:
Your feed should inform. People expect the stories in their feed to be meaningful to them — and we have learned over time that people value stories that they consider informative. Something that one person finds informative or interesting may be different from what another person finds informative or interesting — this could be a post about a current event, a story about your favorite celebrity, a piece of local news, or a recipe. We're always working to better understand what is interesting and informative to you personally, so those stories appear higher up in your feed.
More than a billion people have joined Facebook, and today they share a flood of stories every day.
Your feed should entertain. We've also found that people enjoy their feeds as a source of entertainment. For some people, that's following a celebrity or athlete; for others it's watching Live videos and sharing funny photos with their friends. We work hard to try to understand and predict what posts on Facebook you find entertaining to make sure you don't miss out on those.
We view our work as only 1 percent finished — and are dedicated to improving along the way. As we look for ways to get better, we will continue soliciting feedback. We will be as open as we can — providing explanations in News Feed FYI wherever possible and looking for opportunities to share how we work. ~ Building A Better Newsfeed for You? Facebook 06/29/16
Ask yourself these three questions the next time you go to post on your Facebook timeline:
1. Is my post adding value?
2. Is my post entertaining? Will it allow my followers / potential followers to get to know and trust me and my business?
3. How is my post setting me apart from my competition?
Social media is about being SOCIAL. Share information that speaks to your audience. Share information that THEY find valuable; and if you don't know what that is, take the time to find out. You are the designer of your success.
Need help with your small business social media marketing? Contact NAVARRO CREATIVE GROUP and let's talk about ways that we can help you build your on-line presence and marketing strategy.
615.562.1002 | [email protected] | www.NavarroCreativeGroup.com