4 Tips For A Great Holiday Marketing Strategy
You may be thinking, 'It's summertime, what is Navarro Creative Group doing talking about the holidays?'. Well, friends, the holidays will be creeping up on us before we know it and we want you prepared for your best sales of the season! The National Retail Federation (NRF) reports, "each year, about 40 percent of consumers begin their holiday shopping before Halloween." That's right, BEFORE HALLOWEEN! For the most effective marketing, begin at least six months in advance, this allows you ample time to create consistent and concise messaging, devise a schedule, and plan delivery methods. Once the rush of the holidays comes, you can breathe knowing that you have set your marketing, and press GO!  Ready to start planning? Continuing reading, "4 Tips for a Great Holiday Marketing Strategy".
1. Set Your Goals
Before you can begin executing your marketing, it is essential to set your holiday S.M.A.R.T (specific, measurable, attainable, realistic, and time-bound) Goals. Setting S.M.A.R.T goals will help you to refine your ideas, define the purpose, and shed light on what marketing messages and avenues you need to focus. It will also allow you to use your time and resources wisely and follow how successfully your marketing strategy is working.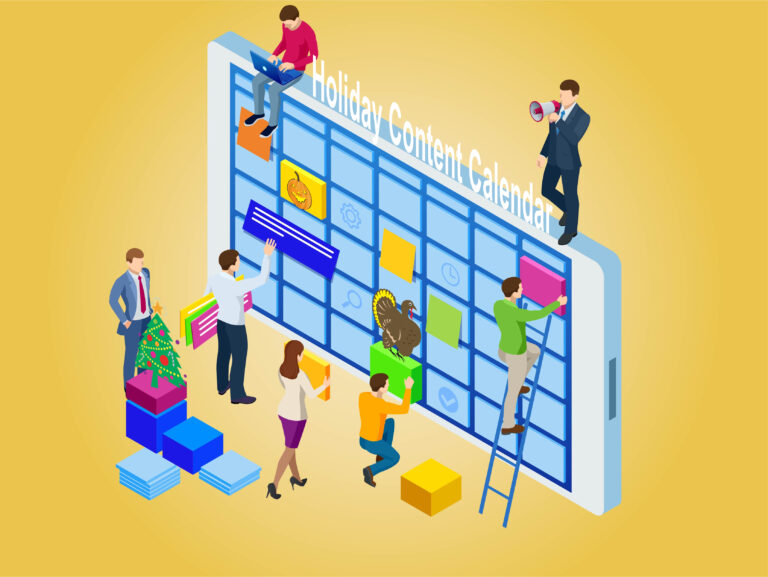 2. Prepare your Content
It is never too early to begin creating your holiday-specific content. Now is the time to organize your photos, videos, and graphics so that you are prepared to publish them to your website, social media pages, and newsletters in time for the holidays. If you work with an agency or graphic designer, schedule a planning session so that they can design great content and print collateral that will make your message stand out!
Content calendars are a lifesaver, too and will help free up a lot of your time. They keep on track and are a great way to stay organized so that you don't forget when specific posts or events need to be published. Being prepared with social media posts ready to go live and an email blast scheduled will guarantee that you don't forget anything during the rush of the holidays.
3. Advertise
It is never too early to start advertising your holiday events. By starting early, you allow extended exposure to your event, which may mean more reach and interest. One of our favorite forms of advertising is Facebook Ads. If you are marketing an event, start by creating a Facebook Event page and use Facebook Ads to gain exposure. Be sure also to add your event to community magazines, and online calendars, and remember to UPDATE YOUR WEBSITE!
4. Increase Exposure
During the holidays you want to get as much exposure as you possibly can so you can have your best sales of the season. Be sure to:
Update your email list. Subscribers have already indicated that they are interested in your product or service by signing up on your email list. Be sure to keep them in the loop and informed about your activities, events, and sales.
 Collaborate with community organizations and like businesses. Cross post content on each other's Facebook pages and other social platforms so that you can reach a new audience and clientele.
 Consider throwing an influencer get together. Invite local influencers to get to know you, your business and/or event and write about it on their social pages or Blogs. Be sure to reach out to influencers with a large following which consists primarily of your target audience.
Need more ideas on how to Plan Your Holiday Marketing Strategy? Let's Talk! Contact us about how we can help your business.
website design | e-commerce sites | logos & graphics | social media
I recently had a conversation with a new client about social media and we starting taking about using images from the internet, i.e. Google Search copy and paste. My reaction may have startled her a little because it was pretty immediate - DO NOT DO THIS! ? Images may be subject to copyright and those that are, and are used without consent, are subject to copyright infringement and potential legal action!
Yes, we know "everyone does it" but not really. Everyone who knows better does NOT do it. Fines for copyright violations are H E F T Y and by violating those rights you're also stealing from a photographer, a designer, a graphic artist etc. and yes, maybe even another small business who is trying to make a living. Betcha didn't think about that.
So, STOP ?! Change your ways and follow these tips on how to create GREAT posts that will get your message across without the worry of getting your a$$ets sued.
Tips to create great graphics for social media...the right way:
✔️ Subscribe to a royalty free service such as Adobe Stock Images or Shutterstock. Adobe Stock offers a free 30 Day Trial.
✔️ Check out Canva. This is one of our favorite "secret weapons" to create quick, professional looking graphics that don't require the deep dive of Photoshop.
✔️ Post a video of you instead. Video is one of the BEST ways to "speak" to your fans.
✔️ Use your own photos. We bet you have a smart phone. Well, today's phones have awesome picture, filter and effects capabilities and work great for social media posts.
Below are the links to the resources we mentioned. Have a favorite that you'd like to share? Drop it in the comments below. Have a question? Do the same.
Happy Businessing!!
• Adobe Stock Images: https://goo.gl/nSUaQX
• Shutterstock: https://goo.gl/rTzbWb
• Canva: https://goo.gl/LXC8H5
Think we're being dramatic (hey we like drama just as much as the next gal, but we like to keep ours in the theater) you'll think otherwise, and maybe thank us, when you read this.
The $8,000 Mistake...https://goo.gl/aGNBju
Marketing to Millennials
Marketing has changed drastically over the last decade. No longer can marketers just push information out to the consumer hoping to "make the sale", they must engage and interact or risk becoming irrelevant to the next generations of consumers. The greatest reason for this change is due to technology; social media and digital marketing have changed the way consumers interact. This shift has affected how we connect with each other, and the tools that we use. We are absorbing information faster than ever before. No group brings to mind the power of this change more so than Millennials.
Who are Millennials? And why are they such a big deal?
The United States Census Bureau, using birth dates ranging from 1982 to 2000, stated the estimated number of U.S. millennials in 2015 was 83.1 million people. In 2016, the Pew Research Center found that millennials surpassed Baby Boomers to become the largest living generation in the United States, with $200 billion in annual buying power.
The way that Millenials consume media differs from other generations in that they trust what feels authentic and resonates with them. They don't like feeling like they're being sold to. That's why they prefer getting information from people that they know or viewing others' opinions before making a purchase decision. They value trust, thoughtfulness, and self-expression.
Millennials are more likely to rely on technology than other generations to make informed decisions, using multiple platforms and sources to obtain information. Traditional marketing such as newspapers, magazines, and TV ads do not work with them.
They even find pop-up ads online annoying and disruptive. They prefer content to be more personalized, more unique, and consistent. They embrace content that creates a conversation.
Millennials want to feel like content is created with their interests in mind, making them more likely to purchase services or products from your brand. Their respect lies with brands that are honest, focused on building relationships, and continually create unforgettable experiences.
Understanding Millenials Online Behavior
64% of believe that social media is one of the best ways to reach brands.
72% use free video streaming (YouTube)
60% use subscription-based video on demand services (Netflix. Amazon Video, Hulu)
6 in 10 would prefer watching a company newsletter instead of reading one
85% own smartphones
Millennials prefer how-to information that offers guidance
71% engage in social media
They check their smartphones over 40 times a day
59% have shared an ad on social media
93% use online reviews in their purchase decisions
Sources:
8 Modern Tips for Marketing to Millennials
10 Tips for Millennial Marketing
Millennials and Media Consumption By The Numbers
What Defines Millennials – and How Marketers Can Reach Them
Why Traditional Media Doesn't Reach Millennials — And How to Reach Them With Video
Need help with your small business marketing or website? Contact NAVARRO CREATIVE GROUP and let's talk about ways that we can help you build your on-line presence and marketing strategy.
615.562.1002 | [email protected] | www.NavarroCreativeGroup.com
Connect With Us