4 Tips For A Great Holiday Marketing Strategy
You may be thinking, 'It's summertime, what is Navarro Creative Group doing talking about the holidays?'. Well, friends, the holidays will be creeping up on us before we know it and we want you prepared for your best sales of the season! The National Retail Federation (NRF) reports, "each year, about 40 percent of consumers begin their holiday shopping before Halloween." That's right, BEFORE HALLOWEEN! For the most effective marketing, begin at least six months in advance, this allows you ample time to create consistent and concise messaging, devise a schedule, and plan delivery methods. Once the rush of the holidays comes, you can breathe knowing that you have set your marketing, and press GO!  Ready to start planning? Continuing reading, "4 Tips for a Great Holiday Marketing Strategy".
1. Set Your Goals
Before you can begin executing your marketing, it is essential to set your holiday S.M.A.R.T (specific, measurable, attainable, realistic, and time-bound) Goals. Setting S.M.A.R.T goals will help you to refine your ideas, define the purpose, and shed light on what marketing messages and avenues you need to focus. It will also allow you to use your time and resources wisely and follow how successfully your marketing strategy is working.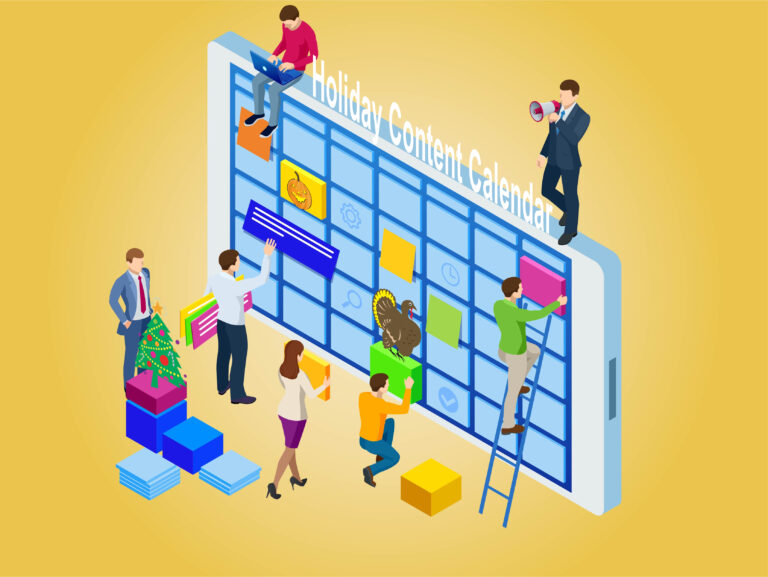 2. Prepare your Content
It is never too early to begin creating your holiday-specific content. Now is the time to organize your photos, videos, and graphics so that you are prepared to publish them to your website, social media pages, and newsletters in time for the holidays. If you work with an agency or graphic designer, schedule a planning session so that they can design great content and print collateral that will make your message stand out!
Content calendars are a lifesaver, too and will help free up a lot of your time. They keep on track and are a great way to stay organized so that you don't forget when specific posts or events need to be published. Being prepared with social media posts ready to go live and an email blast scheduled will guarantee that you don't forget anything during the rush of the holidays.
3. Advertise
It is never too early to start advertising your holiday events. By starting early, you allow extended exposure to your event, which may mean more reach and interest. One of our favorite forms of advertising is Facebook Ads. If you are marketing an event, start by creating a Facebook Event page and use Facebook Ads to gain exposure. Be sure also to add your event to community magazines, and online calendars, and remember to UPDATE YOUR WEBSITE!
4. Increase Exposure
During the holidays you want to get as much exposure as you possibly can so you can have your best sales of the season. Be sure to:
Update your email list. Subscribers have already indicated that they are interested in your product or service by signing up on your email list. Be sure to keep them in the loop and informed about your activities, events, and sales.
 Collaborate with community organizations and like businesses. Cross post content on each other's Facebook pages and other social platforms so that you can reach a new audience and clientele.
 Consider throwing an influencer get together. Invite local influencers to get to know you, your business and/or event and write about it on their social pages or Blogs. Be sure to reach out to influencers with a large following which consists primarily of your target audience.
Need more ideas on how to Plan Your Holiday Marketing Strategy? Let's Talk! Contact us about how we can help your business.
website design | e-commerce sites | logos & graphics | social media
It is not too early to start preparing for 2018 Small Business Saturday - In FACT, you need to start, if you haven't already and American Express is making it easy.
5 Tips to Prepare for Small Business Saturday 2018
Visit www.ShopSmall.com/GetReady.com and request your FREE Small Business Marketing Kit.
Visit the American Express Shop Small Studio and download your FREE downloadable print and social media materials that you can personalize for your business.
Get involved in the Small Business Movement in your community.
Collaborate with other complimentary small businesses and promote each other on social media and with collaborative marketing.
Register your business on Amex Guides.
More Ways to participate in Small Business Saturday 2018:
Follow the Shop Small Movement on Social Media
Instagram: @shopsmall
Facebook: @SmallBusinessSaturday
Twitter: @shopsmall
Use hastags #shopsmall #smallbizsat
CLICK HERE   to watch a quick video on what your FREE ShopSmall Business Marketing Kit includes.
Small business owners,  post your business name and link below and tell us, "How are you preparing for Small Business Saturday?" 
LOOKING FORWARD to 2019:
Prepare for 2019 and become a Neighborhood Champion!  Due to high demand for this program, the application period to become a 2018 Neighborhood Champion has closed early. Typically they open the application in early summer.
"When you buy from a Small Business an actual person does a LITTLE HAPPY DANCE "
As Small Business Owners we appreciate each and every one of our clients and that they choose to work with us! On November 24th, it is our time to be in the spotlight. It's Small Business Saturday!
Small Business Saturday continues to be an annual holiday shopping tradition — just one part of the larger, "Shop Small Movement" to support small businesses every day and everywhere. Navarro Creative Group is so proud to be a part of Small Business Saturday and the Shop Small Movement and support our fellow small businesses because a visit to the family-owned flower shop or a stop at the neighborhood diner not only supports our local economy, it promotes a more vibrant community.
If this will be your first year participating in Small Business Saturday or, if you are thinking about participating here are some FAQ's to help you!
1. What is Shop Small?
- Shop Small is a nationwide movement to celebrate small businesses every day and to help communities thrive and stay vibrant.
2. What is Small Business Saturday?
- Small Business Saturday is a day dedicated to supporting small businesses and communities across the country. It was founded by American Express in 2010. This day is celebrated each year on the Saturday after Thanksgiving.
3. Why should I participate in the Shop Small Movement?
- As a consumer, you're a key part in helping small businesses thrive. By shopping or dining at small businesses throughout the year, you're showing your support for the small businesses in your neighborhood and in the communities you call your own.
- As a business owner, if you have a local brick-and-mortar store or restaurant, then the power of this event is significant for you. Small Business Saturday is a great time to refocus your marketing efforts on your local community. "You can leverage the event to start ongoing collaborations with fellow business owners. Explore partnerships that help both of your businesses reach a broader audience, get more foot traffic in your stores, and increase purchases in both locations. It could be as simple as distributing coupons or flyers for other businesses in your store, or it could be a year-long marketing partnership that involves co-hosted events and special promotions." (via The Balance Small Business)
4. How can I participate?
- Your involvement makes a difference. Whether you're rallying your community as a Neighborhood Champion, operating as a small business owner, or supporting your favorite spots as a shopper, there's a place for you in the Shop Small Movement. See how you can make an impact on Small Business Saturday and all year-round and how to receive FREE resources like downloadable materials, how-to videos and more. CLICK HERE to get everything you need to spread the word, plan an event, or promote your business for Small Business Saturday®.
Thank you for Shopping and Supporting Small!
As small business owners, we get so busy focused on our daily operations that we forget we have one of the most powerful, effective marketing methods for small business right in front of us, our customers!
Word of mouth has always been an incredibly reliable and effective method of marketing for business owners. After all, recommendations from a friend are trusted by 92% of consumers!
Word of mouth has always been an incredibly reliable and effective method of marketing for business owners. After all, recommendations from a friend are trusted by 92% of consumers!
With immediate access to family and friends at our fingertips, i.e. smart phones and computers, your customers are your most powerful and effective marketing method, all you need to do is ASK.
5 Easy Steps to Harnessing the Most Powerful, Effective Marketing Methods for Small Business
Let your customers know that you are on social media. Post signs in your store on the door or by the checkout counter.
Ask your customers to check-in with you on their social media pages.
Set up a "selfie station" in your store. Encourage your customers to take a selfie with their purchases and post it to their social media pages. Create a unique hashtag for your store and ask your customers to use it when they post.
Ask your customers to review your business on Google, Facebook, Yelp etc.
Establish a routine to check for posts and shares. Share your customers' posts on your social media pages and be sure to thank them for their support!
Need help with your small business marketing or website? Contact NAVARRO CREATIVE GROUP and let's talk about ways that we can help you build your on-line presence and marketing strategy.
615.562.1002 | [email protected] | www.NavarroCreativeGroup.com 
Connect With Us