Before You Set 2020 Goals, First Determine Your Brand Identity
Do you know who you are as a business? Before you plunk down to compose your 2020 business goals and dive excessively deep in determining your objectives, you have to first decide who you are as a brand and your purpose...Your Brand Identity.
There are five key parts to a Brand Identity: Mission, Vision, Target Audience, Brand Personality, and Core Values.
Together, these are the most significant parts of your brand since they tell the world who you are and what motivates you. The different pieces of your brand like your logo, colors, text style type etc., are substantial components that tell the world those key parts through design.
Mission and Vision: Write a mission statement about why your organization exists and a vision statement about where you want your brand to go. These can be large (you're going to change the world) or little (you understand the little, irritating issues your ideal client faces). Just be sure that they are consistent with your brand.
Target Audience: Determine who your ideal clients are and why they need you (for example how your products or services solve their issues).
Brand Personality: List 3-5 descriptive words that depict your brand. This will establish the identity for both design and content. Ask and answer questions like, are we traditional or cutting edge? Do we cater to women or men? Is our ideal client a Baby Boomer or Millennial? Include your team and ask for their input. Tip: It can be useful to list 3-5 descriptive words that your image isn't, too.
Core Values: Determine the guiding principles and fundamental beliefs that lead to your organization's choices and activities. Noteworthy qualities will make it simple for your group to remain on-brand. For example, "We are committed to building strong communities." "We are committed to helping the less fortunate."
When you've clearly identified your brand image you are ready to start writing your 2020 business goals, how you can best interact with your ideal clients/customers and what type of marketing will help get you there.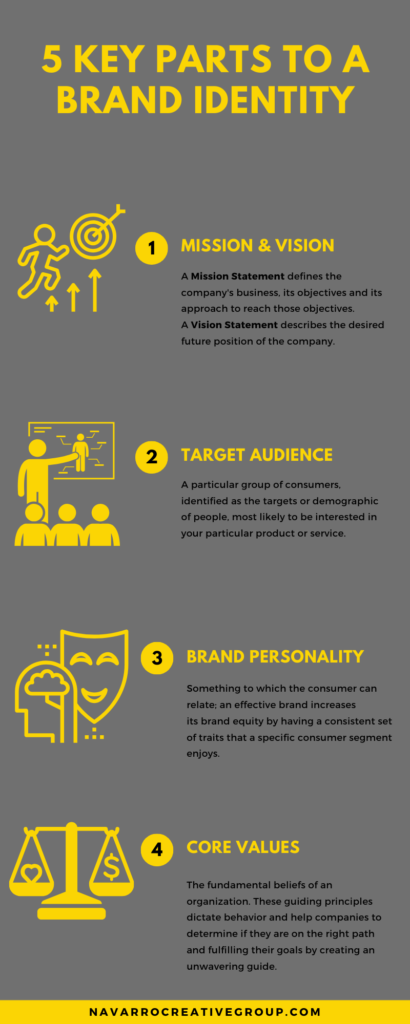 ---

Do you need help with clearly determining your brand identity or with reaching your Marketing Goals in 2020? Contact Us.
Other articles your might enjoy:
Need help crushing your marketing goals? Contact us today for help.