Marketing to Millennials
Marketing has changed drastically over the last decade. No longer can marketers just push information out to the consumer hoping to "make the sale", they must engage and interact or risk becoming irrelevant to the next generations of consumers. The greatest reason for this change is due to technology; social media and digital marketing have changed the way consumers interact. This shift has affected how we connect with each other, and the tools that we use. We are absorbing information faster than ever before. No group brings to mind the power of this change more so than Millennials.
Who are Millennials? And why are they such a big deal?
The United States Census Bureau, using birth dates ranging from 1982 to 2000, stated the estimated number of U.S. millennials in 2015 was 83.1 million people. In 2016, the Pew Research Center found that millennials surpassed Baby Boomers to become the largest living generation in the United States, with $200 billion in annual buying power.
The way that Millenials consume media differs from other generations in that they trust what feels authentic and resonates with them. They don't like feeling like they're being sold to. That's why they prefer getting information from people that they know or viewing others' opinions before making a purchase decision. They value trust, thoughtfulness, and self-expression.
Millennials are more likely to rely on technology than other generations to make informed decisions, using multiple platforms and sources to obtain information. Traditional marketing such as newspapers, magazines, and TV ads do not work with them.
They even find pop-up ads online annoying and disruptive. They prefer content to be more personalized, more unique, and consistent. They embrace content that creates a conversation.
Millennials want to feel like content is created with their interests in mind, making them more likely to purchase services or products from your brand. Their respect lies with brands that are honest, focused on building relationships, and continually create unforgettable experiences.
Understanding Millenials Online Behavior
64% of believe that social media is one of the best ways to reach brands.
72% use free video streaming (YouTube)
60% use subscription-based video on demand services (Netflix. Amazon Video, Hulu)
6 in 10 would prefer watching a company newsletter instead of reading one
85% own smartphones
Millennials prefer how-to information that offers guidance
71% engage in social media
They check their smartphones over 40 times a day
59% have shared an ad on social media
93% use online reviews in their purchase decisions
Sources:
8 Modern Tips for Marketing to Millennials
10 Tips for Millennial Marketing
Millennials and Media Consumption By The Numbers
What Defines Millennials – and How Marketers Can Reach Them
Why Traditional Media Doesn't Reach Millennials — And How to Reach Them With Video
Need help with your small business marketing or website? Contact NAVARRO CREATIVE GROUP and let's talk about ways that we can help you build your on-line presence and marketing strategy.
615.562.1002 | [email protected] | www.NavarroCreativeGroup.com
Connect With Us
Generational Marketing: Why you should market to Generation X
Generation X:
It's not easy being Generation X. They have the second largest spending power, earning 31% of the household income in the United States. Yet compared to other generations, they are immensely overlooked by companies in their marketing strategies.
Why is that? With so much focus on Millennials, Generation X's unique position with consumers often gets ignored. They are the only generation that is adults both before and after the technological landscape changed. Consequently, it puts them in a better position of being tech-savvy, diverse, and a bit more well-rounded than younger generations.
Their ability to quickly adapt to technology has become the core of their identity. After all they remember the world before the rise of the Internet and technology and were young enough to gravitate towards the transition at the brink of its cusp.
Since Generation X is in the middle of other generations, their influence affects those generations as well. Disregarding this generation means ignoring a group that has notable influence and the ability to connect with various types of marketing structures over a wide variety of channels. Understanding their influence presents a significant opportunity to target a diverse audience that appreciates both digital and traditional marketing.
Generation X and On-line Behavior
The following presents ways to understand their online behavior:
How They Connect:
• 80% use Facebook.
• YouTube is a part of their daily habit. They often consume how-to videos, and videos of nostalgic entertainment and pop culture of their childhood.
• Generation X accounts for over 1.5 Billion of YouTube's 5 Billion views daily
• Perfect audience for television advertisements
• They prefer to use a computer over a smartphone.
What's Their Focus?
• According to the U.S. Department of Labor, they spend more on housing, clothing, dining, and entertainment than other generations
• Generation Xers want brands to show them that they're appreciated & understood. They are loyal to brands that do.
• It's important for them to stay relevant without feeling left out.
• They are less eager to jump on the latest trend, making them easier to market to consistently.
• Generation Xers are more likely to share content.
Sources:
Marketing to Generation X? Here's What They're Watching on Youtube
Marketing to the Forgotten Generation
I'm A Gen Xer -- Here's Why You Should Stop Ignoring Me
Need help with your small business marketing or website? Contact NAVARRO CREATIVE GROUP and let's talk about ways that we can help you build your on-line presence and marketing strategy.
615.562.1002 | [email protected] | www.NavarroCreativeGroup.com
Connect With Us
Why you should market to Baby Boomers
You've heard how important it is to create targeted marketing strategies for your audiences, but how exactly do we accomplish this? How do we define our audiences and determine the most effective content that will provide value?
In continuation of our series of Generational Marketing, we will explore the answers to those questions while providing insight into what makes each generation unique, how they are influenced, and how marketing using certain social media platforms for specific groups can be beneficial to your business. Beginning with why marketing to Baby Boomers makes good business sense.
Marketing to Baby Boomers:
Baby Boomers are the second largest generation in the US with over 80% belonging to at least one social networking site.
The impact of Baby Boomers in media consumption may be surprising, but it creates a unique marketing opportunity and competitive advantage. Considering the diversity of this generation with many working longer than previous generations while others are retired with additional time on their hands, they have more expendable income than any other demographic. Their buying power is underestimated due to the focus on younger generations but is one that should not be ignored. Baby boomers are not only marketable but a valuable generation that seeks to be relevant with current trends while making use of the technology that's available. Understanding how they interact with technology is what is important.
Choosing the Right Platform:
Over 80% of Boomers use Facebook to connect with friends and family and to search for information. Many spend over 10 hours a week on Facebook alone.
Over half of Boomers who use social networking sites visit a company website or continue their research on a search engine as a result of seeing something on social media
26% of female boomers are likely to share content or express themselves online
Over 90% use email to communicate and read about products and services they are interested in
Choosing the right content:
Baby boomers are focused on finding information and are more likely to visit a business website and continue researching once seeing something interesting on a social media site
Drawn to information and videos that have a slower pace, provide detailed insights, and feel relatable
Value the importance of work and seek to express their opinions and views with others based on their experiences
Desire to be involved. Many enjoy interactive content that asks for their opinion.
More likely to use a computer to shop online
5 tips that you can implement now to better engage with Baby Boomers:
Build your email list and schedule regular email campaigns.
Write regular Blogs and use the content to post to your Facebook page. Redirect your Facebook followers back to your blog for the full content.
Be sure that your business location and contact information are on your website and within your email campaigns
Write content on your social media sites, and website that is precise and to the point. Keep jargon and buzz words to a minimum
Encourage engagement by soliciting their input via polls, opinions, comments etc.
Sources:
Should You Market to Baby Boomers on Social Media?
12 Outstanding Statistics on Baby Boomers and Social Media
The Baby Boomer Generation [Born 1946–1964]
Need help with your small business marketing or website? Contact NAVARRO CREATIVE GROUP and let's talk about ways that we can help you build your on-line presence and marketing strategy.
615.562.1002 | [email protected] | www.NavarroCreativeGroup.com
Connect With Us
When we think of consuming media, we tend to think of the generalization of millennials being enamored with their smartphones, taking selfies, or browsing social media for hours on end. These generalizations fail to mention one important factor: ALL generations are consumed with some form of media. Although the other generations –Generation Z, Generation X, and Baby Boomers- receive less attention and emphasis, they are equally important in developing the right audience and delivering the most impactful content for marketing your business. As a business owner, these are elements that can truly transform the marketing and branding of a company from nothing to something.
Just ask any successful entrepreneur today what drives their business, and they will tell you that creating a connection with your audience is the best way to encourage engagement, build growth, and generate sales. However, to understand your audience, you have to know your audience by being aware of their tendencies, behaviors, and habits.
Use the graphics below to help you better understand and compare the four main generations and how they consume media. Where does your customer demographic fit in?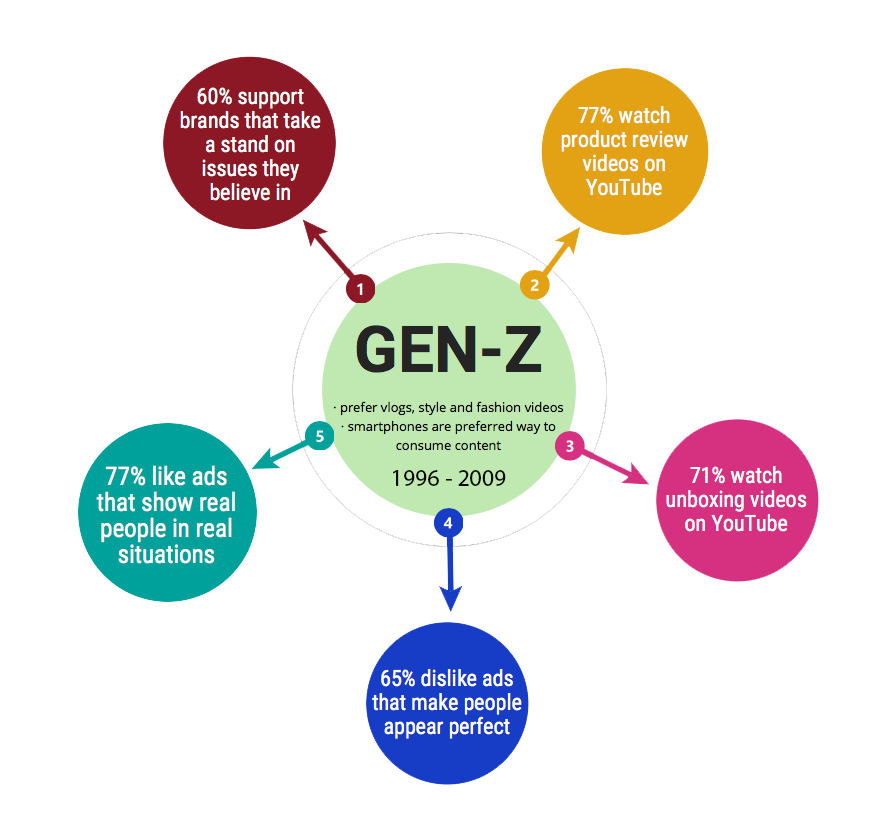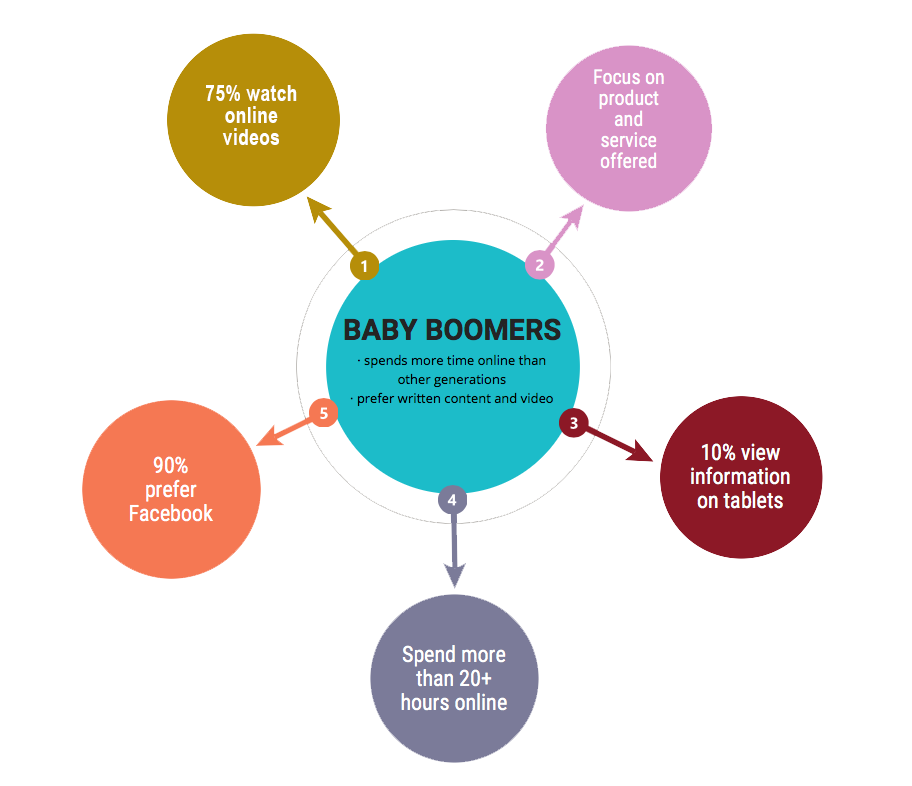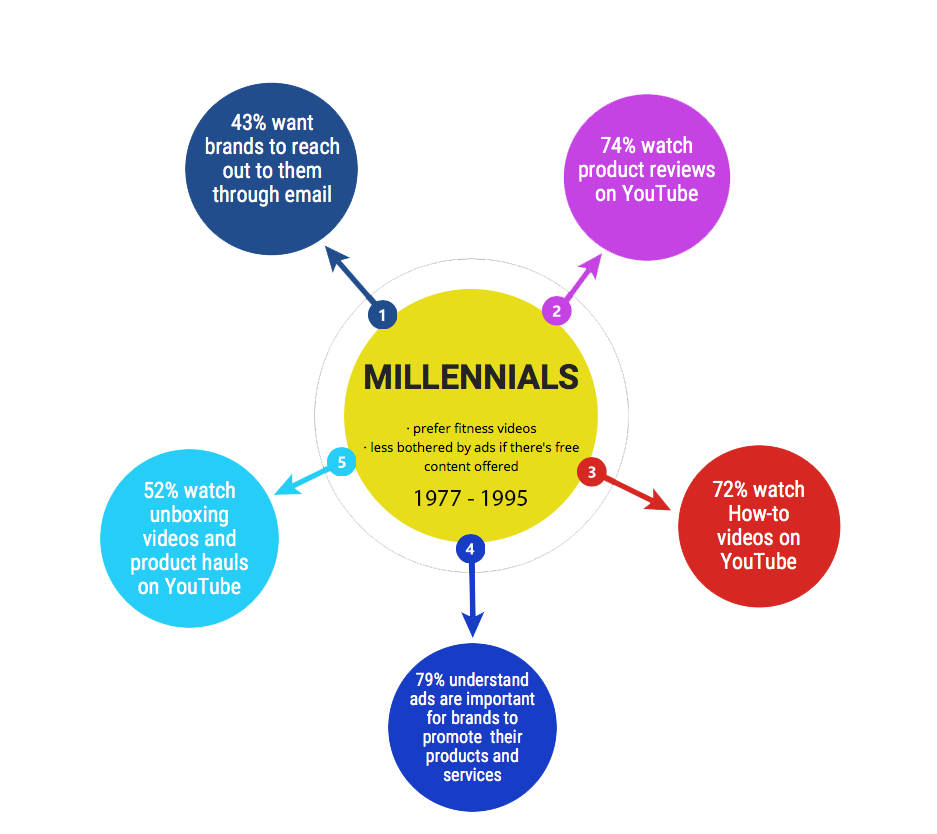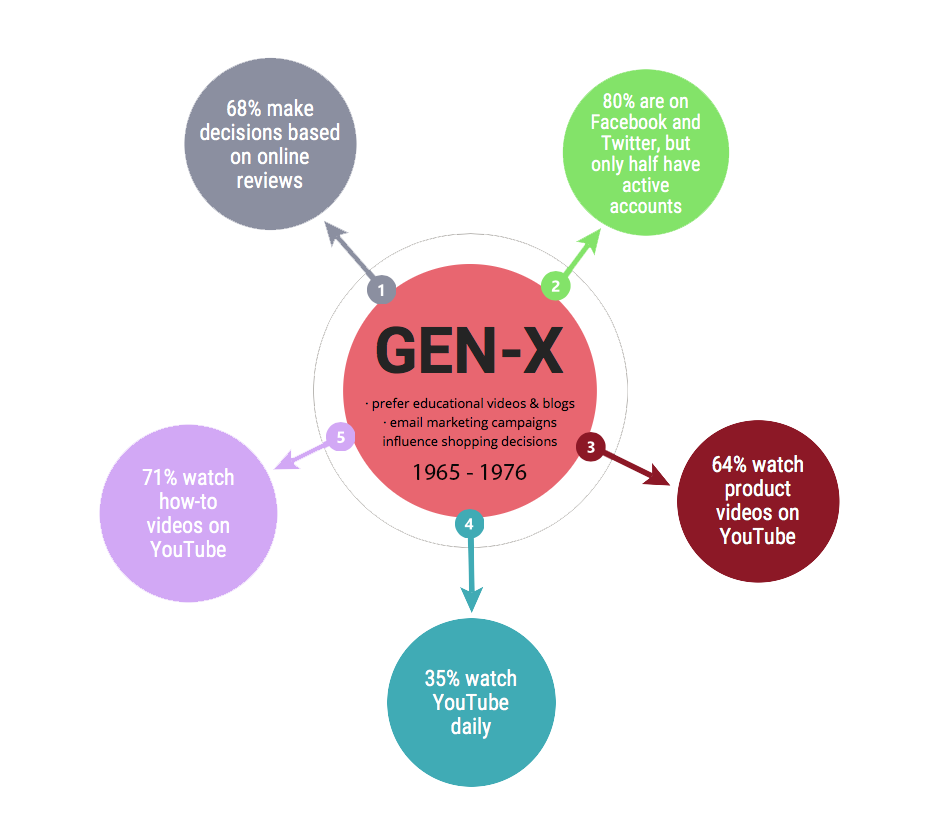 Sources:
Infographic: How Generations X, Y and Z consume video
MILLENNIALS ON MILLENNIALS: A LOOK AT VIEWING BEHAVIOR, DISTRACTION AND SOCIAL MEDIA STARS
How Millennials and Baby Boomers Consume User-Generated Content [Infographic]
Need help with your small business marketing or website? Contact NAVARRO CREATIVE GROUP and let's talk about ways that we can help you build your on-line presence and marketing strategy.
615.562.1002 | [email protected] | www.NavarroCreativeGroup.com 
Connect With Us