When was the last time you looked at your Google Business Profile, aka Google Business? Google has added a whole lot of great features to make it easier for locals to find your business when you take the following ACTION!
WHY GOOGLE BUSINESS PROFILE IS IMPORTANT
Think of Google Business Profile as an extension of your website, except with a hyper-local focus. With a well-designed and complete Google Business Profile listing, the closer the searcher is to your business, the higher up you may appear on the search results.
The bottom line is that Google's goal is to keep the end-user happy and help people find desired businesses close by to where they are located. In our opinion, it is the BEST SEO for local searches when people are looking for businesses like yours.
INFORMATION CUSTOMERS SEE ON A GOOGLE BUSINESS PROFILE
Google Business Profile includes everything about your business in a quick at-a-glance format. What you need to do is to make sure that the information is complete and accurate in order to get the greatest results.
Hours of operation, including special holiday hours
Address and directions
Contact information
Listings should also be updated to include
Interior and exterior photos
Special offers or sales, and
Event information
And, newer to Google Business Profile is their postings area. This area allows you to post information similar to how you would a Blog. Again, it's content-driven, potentially boosting your ranking in searches and informing and updating customers about you and your business and what sets you apart.
Finally, Google Business Profile is where your customers leave reviews about your business and where you respond to those reviews. Reviews are a critical component to your online reputation and can also help to elevate your ranking. It is also where you can create Google SMART Campaigns and Ads.
SET UP GOOGLE MY BUSINESS
To set up your Google Business Profile, claim your page if you have not yet done so. You can determine this with a quick search on Google. See the example below.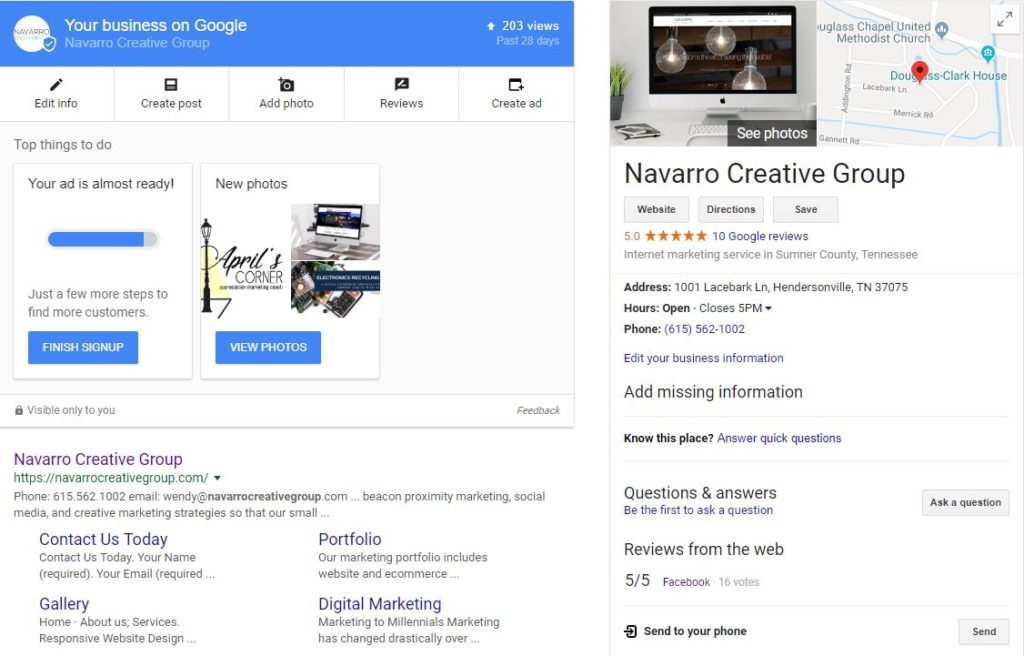 If you have no page, then sign in with your Google Account and create one following the instructions provided. You will need to get your profile up to as near completed status as possible, then verify it through a phone call or postcard code. Until you have verified your listing, you will not be able to complete your listing.
Contact Navarro Creative Group for help with setting up and optimizing your Google Business Profile or for help with your website, SEO, or social media marketing.
If you have any questions or comments, post them below.