4 Tips For A Great Holiday Marketing Strategy
You may be thinking, 'It's summertime, what is Navarro Creative Group doing talking about the holidays?'. Well, friends, the holidays will be creeping up on us before we know it and we want you prepared for your best sales of the season! The National Retail Federation (NRF) reports, "each year, about 40 percent of consumers begin their holiday shopping before Halloween." That's right, BEFORE HALLOWEEN! For the most effective marketing, begin at least six months in advance, this allows you ample time to create consistent and concise messaging, devise a schedule, and plan delivery methods. Once the rush of the holidays comes, you can breathe knowing that you have set your marketing, and press GO!  Ready to start planning? Continuing reading, "4 Tips for a Great Holiday Marketing Strategy".
1. Set Your Goals
Before you can begin executing your marketing, it is essential to set your holiday S.M.A.R.T (specific, measurable, attainable, realistic, and time-bound) Goals. Setting S.M.A.R.T goals will help you to refine your ideas, define the purpose, and shed light on what marketing messages and avenues you need to focus. It will also allow you to use your time and resources wisely and follow how successfully your marketing strategy is working.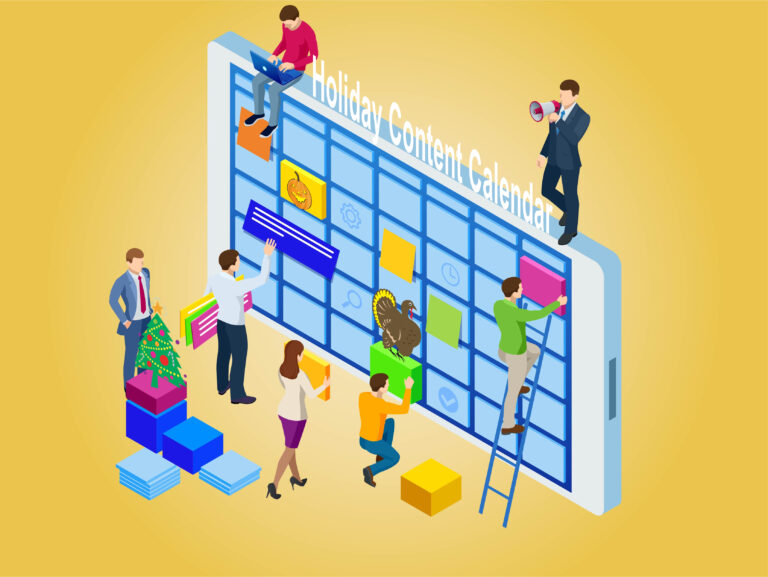 2. Prepare your Content
It is never too early to begin creating your holiday-specific content. Now is the time to organize your photos, videos, and graphics so that you are prepared to publish them to your website, social media pages, and newsletters in time for the holidays. If you work with an agency or graphic designer, schedule a planning session so that they can design great content and print collateral that will make your message stand out!
Content calendars are a lifesaver, too and will help free up a lot of your time. They keep on track and are a great way to stay organized so that you don't forget when specific posts or events need to be published. Being prepared with social media posts ready to go live and an email blast scheduled will guarantee that you don't forget anything during the rush of the holidays.
3. Advertise
It is never too early to start advertising your holiday events. By starting early, you allow extended exposure to your event, which may mean more reach and interest. One of our favorite forms of advertising is Facebook Ads. If you are marketing an event, start by creating a Facebook Event page and use Facebook Ads to gain exposure. Be sure also to add your event to community magazines, and online calendars, and remember to UPDATE YOUR WEBSITE!
4. Increase Exposure
During the holidays you want to get as much exposure as you possibly can so you can have your best sales of the season. Be sure to:
Update your email list. Subscribers have already indicated that they are interested in your product or service by signing up on your email list. Be sure to keep them in the loop and informed about your activities, events, and sales.
 Collaborate with community organizations and like businesses. Cross post content on each other's Facebook pages and other social platforms so that you can reach a new audience and clientele.
 Consider throwing an influencer get together. Invite local influencers to get to know you, your business and/or event and write about it on their social pages or Blogs. Be sure to reach out to influencers with a large following which consists primarily of your target audience.
Need more ideas on how to Plan Your Holiday Marketing Strategy? Let's Talk! Contact us about how we can help your business.
website design | e-commerce sites | logos & graphics | social media
Social media has topped the marketing world and word of mouth continues to be the most powerful tool for marketing a business. Today, with all the social media platforms we are connected on it is easier than ever for customers to share their best and worst experiences, and online reviews are the word-of-mouth for this day and age. 
Importance of Online Reviews
Online review sites such as Yelp, Google, and Facebook play a crucial role in determining how successful your business can be.  
Accessibility 
Nowadays people have access to reviews at their fingertips. They are incredibly easy to find thanks to search engines, apps, and reviews features on social media platforms.  
Visibility 
Reviews for a business become viewable to consumers as soon as they search for something. For example, a Google search for "website design" near me pulls up the following local results and displays the ratings for each business. There is no having to search and find it, it is simply there.  
How Do Online Reviews Help Your Business?
 Not only can reviews help leave positive information about your business online, but they can help your business in SO many ways, including your marketing efforts. 
Search Engine Optimization 
The more reviews you have the higher the chance that your business will show up on the first page of Google.  First-page exposure, heck yes! It's not uncommon for small business' Yelp, Google, or Facebook pages to rank higher than their website because of the number of reviews on those sites.  
Buyer-Decision Making 
Consumers don't just come across online reviews in their online adventures, they intentionally head to review sites and directories to scope out businesses that meet their needs.
9 out of 10 consumers read reviews for local businesses before making a purchase!
And, future clients look at three things: 
(1) ratings and recommendations
(2) total number of reviews
(3) basic business info. 
After they look at those 3 things, they begin reading individual reviews to learn what to expect or determine if they want to use their services.  
How Influential Are Online Reviews?
Well, let's take a look at Facebook, one of the biggest online review platforms between Google and Yelp. Customers can leave recommendations and rank their experience between 1 and 5. The average is used for a business's final rating. Users are able to see the rating without clicking through to the Facebook page so it's easy to gain potential customers trust! 
FACT: 84 percent of people trust online reviews just as much as a personal recommendation!
They're more likely to trust these reviews since they are written by customers who have had real experiences with these businesses.  
How To Get Reviews 
DON'T BE AFRAID TO ASK FOR REVIEWS. 
There are many ways for you to ask your customers for reviews: 
Send a follow-up email. Ask them about their experience, and if they would please leave a review for your business, BUT don't forget to include the link to your review page or Google Business Listing so they don't have to go on a journey to find it. 

 

You can also use a third

-

party review software program, such as 

BirdEye

 or 

Get More Reviews

, that will help you with review monitoring.

 

Have a sign 

in your store 

at 

the

 point of sale asking them to leave a review on Facebook, Google, or any other review platform

 

about their experience. 

 
DON'T BE AFRAID TO RESPOND TO REVIEWS (POSITIVE & NEGATIVE) 
89% of prospective buyers read the business owner's response to online reviews! 
It is so important to respond to reviews whether they are good or bad because the way you respond shows your customer service commitment. When responding to great reviews, thank them for their time and support and tell them how much you appreciate their business. When responding to negative reviews, ask what you can do to make the situation better and what you can do differently so their experience next time is a great one. State that your main priority is to always give every customer a great experience. 
Now that you understand why reviews are essential to your business, we are going to leave you with a few statistics that will remind you just how important reviews really are. Please feel free to save it and keep it someplace where you and your team will see it as a gentle reminder.  Feel free to comment with any questions or to tell us how reviews have helped you and your business. 
CONTACT us and let's talk to discuss how our services can help you and your business! 
website design | e-commerce sites | logos & graphics | social media  
7 Ways to Give and Get Customer Love
We all know February is the month of LOVE. We show love to our significant others, our kids, our parents, siblings, but what about customer love? Our customers continually impact our lives by being a part of our business journey. So, this February we ask you, "What are you doing for your customers?"
In today's day & age customers have access to who you are and what your brand represents 24/7. So it's a great opportunity for you to showcase the ways that you care for your relationships with them.
In this blog post, learn about the benefits of customer love & 7 key-strategies for giving (and getting) the love! ♥
The Benefits of Customer Love
When a business regularly shows its customers their love for them, that business also becomes a brand that people LOVE; and making your brand lovable has a ton of great business benefits, including:
Customer referrals
Customer shout-outs about your business
Social sharing
Heartfelt testimonials
Customer retention and loyalty
Positive online reviews
User-generated content
Think about a brand you love: You tell your friends and family to try its products (customer referrals), You talk about how much you love them whenever a topic arises that falls under its category (customer shout-outs), you're happy to share interesting content the brand creates with your social networks (social sharing), you would be thrilled to have that brand feature one of your "I love (Brand)" rants (testimonials), and you regularly choose this brand over its many competitors -- regardless of price or convenience (customer loyalty). You'd be ecstatic to share a picture of you and their product on your social media platforms (user-generated content).
So, if you'd like your current and future customers to talk about you the way you talk about your favorite brands, below are 5 things you can do to start spreading the customer love and of course getting it in return.
7 Ways to Give and Get Customer Love
Offer Exclusive Access
-Show your clients the love by giving them sneak peeks on new products, create and invite them to special customer nights, allow them to be the first to try out new services, or offer discounted rates only available to them. Doing things like this for your clients will make them feel special and appreciated and you may even benefit from some valuable user feedback as well as word of mouth and online exposure!
Rewards For Customer Loyalty & Referrals
-If a Customer Loyalty Program works for your company, then, by all means, implement it! You can do this in so many ways! The program can reward customers when they hit certain benchmarks or reward them with points every time a purchase is made! Not only is this a great way to show your customers how much they mean to you, but it also means that customers are more likely to come back! You could also implement a referral program that rewards your customers who refer potential customers or new business to you. Many retailers/service businesses do this well by offering discounts or a special gift to customers who refer their friends to shop with them.
Showcase Your Brand's Personality
-It's easy to love a business when you love the people behind the business. The most loved brands are the ones that have a recognizable and lovable personality. Let your clients/customers see your business personality shine! Showcase your personality through your marketing and customer service. Be personable, be relatable, be FUN! Show your customers that you care about the values and interests they care about. A fun way to do this is to make a donation on behalf of your clients to a charity that supports causes that they have a special place in their heart for.
Provide Recognition on Social Media
-Social media is the perfect channel to spread customer love! Responding to positive messages, retweeting customer tweets of things they care about/have interest in or recognize your customers on your social media pages by tagging them in special posts. Using social media to recognize your customers is such a great and easy way for you to give back the love to your customers.
Ask For Customer Feedback
- Asking your customers for feedback allows them to know you care about their opinion and what they have to say. Receiving their feedback with open arms lets then know you are committed to making their experience as positive and valuable as possible. After all, they are the reason you are in business.
Remember To Say Thank You
-This is something so simple, yet so easily overlooked. Taking the opportunity to thank your customer for their business is something they appreciate more than you know. A simple thank you could turn potential customers into life long customers. If you are a retailer and you ship products, thank your customers with a hand-written note. It's something so simple and inexpensive that will go a long way with your customers.
Surprise and Delight
-The idea of getting something in return for what we give has become the norm in society, but surprise reciprocity can be a very effective way to manage love and loyalty with customers. Adding a bonus gift, such as free shipping or offering an unexpected discount is a great way to show your customers love and give them a positive feeling about doing business with you. Everyone loves to feel special, especially when they are spending their hard-earned money with you.
When was the last time you looked at Google My Business, aka Google Business, aka Google Places? Google has added a whole lot of great features to make it easier for locals to find your business when you take the following ACTION!
WHY GOOGLE MY BUSINESS IS IMPORTANT
Think of Google My Business like an extension of your website except with a hyper-local focus.  With a well-designed and complete Google My Business listing the closer the searcher is to your business, the higher up you may appear on the search results.
The bottom line is that Google's goal is to keep the end-user happy and help people find desired businesses close by to where they are located. In our opinion, it is the BEST SEO for local searches when people are looking for businesses like yours.
INFORMATION CUSTOMERS SEE ON GOOGLE MY BUSINESS
Google My Business includes everything about your business in a quick at-a-glance format.  What you need to do is to make sure that the information is complete and accurate in order to get the greatest results.
Hours of operation, including special holiday hours
Address and directions
Contact information
Listings should also be updated to include
Interior and exterior photos
Special offers or sales, and
Event information
And, newer to Google My Business is their postings area. This area allows you to post information similar to like you would a Blog. Again, it's content driven potentially boosting your ranking in searches and informs and update customers about you and your business and what sets you apart.
Finally, Google My Business is where you customers leave reviews about your business and where you respond to those reviews. Reviews are a critical component to your online reputation and can also help to elevate your ranking. It is also where you can create Google SMART Campaigns and Ads.
SET UP GOOGLE MY BUSINESS
To set up  Google My Business claim your page if you have not yet done so. You can determine this with a quick search on Google.  See the example below.
If  you have no page, then sign in with your Google Account and create one following the instructions provided. You will need to get your profile up to as near completed status as possible, then verify it through a phone call or postcard code. Until you have verified your listing, you will not be able to complete your listing.
Contact Navarro Creative Group for help with setting up and optimizing your Google My Business page or for help with your website, SEO, or social media marketing.
If you have any questions or comments post below.
Are You At Risk of Losing Business Beginning Jan 31, 2017?  The PCI Security Standards Council (Payment Security Standards) is constantly working to monitor threats and improve the industry's means of dealing with them. So, once again, starting on approximately January 31, 2017, any page on your website that is non-HTTPS and has a password form or credit card field will be labeled as "Not secure" in the location bar by Google Chrome.
This may confuse your site visitors who sign in to your website because they may interpret the message to indicate that your website has been compromised causing you to potentially lose business. They could also interpret the message to mean that your site has some underlying security issue other than being non-HTTPS.
What to do if your site is not HTTPS
If you DO have a webmaster contact him/her. Ask if your site needs to be updated and if it does they can make the update for you.
If you DO NOT have a webmaster, you may be able to make the changes yourself; however, we do not recommend this option unless you are very tech savvy; otherwise, you run the risk of making life more difficult for yourself.
Some hosting providers offer free SSL. Contact your host provider to determine if they can make the update for you.
Special Note: Google already signaled its preference for HTTPS websites when it called for HTTPS to be "everywhere" on the web during its 2014 I/O conference, and when it announced that it would rank encrypted sites higher in search results. But the internet giant is far from the only big player on the web pushing for more HTTPS. Mozilla and Apple have both indicated that they want more web encryption. 
Resources: 
Imminent: Non-HTTPS Sites Labeled "Not Secure" by Chrome - Wordfence
Google Will Soon Shame All Websites That Are Unencrypted - Motherboard
Need help with your small business marketing or website? Contact NAVARRO CREATIVE GROUP and let's talk about ways that we can help you build your on-line presence and marketing strategy.
615.562.1002 | [email protected] | www.NavarroCreativeGroup.com 
Connect With Us
As small business owners, we get so busy focused on our daily operations that we forget we have one of the most powerful, effective marketing methods for small business right in front of us, our customers!
Word of mouth has always been an incredibly reliable and effective method of marketing for business owners. After all, recommendations from a friend are trusted by 92% of consumers!
Word of mouth has always been an incredibly reliable and effective method of marketing for business owners. After all, recommendations from a friend are trusted by 92% of consumers!
With immediate access to family and friends at our fingertips, i.e. smart phones and computers, your customers are your most powerful and effective marketing method, all you need to do is ASK.
5 Easy Steps to Harnessing the Most Powerful, Effective Marketing Methods for Small Business
Let your customers know that you are on social media. Post signs in your store on the door or by the checkout counter.
Ask your customers to check-in with you on their social media pages.
Set up a "selfie station" in your store. Encourage your customers to take a selfie with their purchases and post it to their social media pages. Create a unique hashtag for your store and ask your customers to use it when they post.
Ask your customers to review your business on Google, Facebook, Yelp etc.
Establish a routine to check for posts and shares. Share your customers' posts on your social media pages and be sure to thank them for their support!
Need help with your small business marketing or website? Contact NAVARRO CREATIVE GROUP and let's talk about ways that we can help you build your on-line presence and marketing strategy.
615.562.1002 | [email protected] | www.NavarroCreativeGroup.com 
Connect With Us
What To Post On Social Media
Using social media for business is no longer a choice for small businesses, it must be included in every business' marketing plan.
However, What To Post On Social Media is a struggle for most businesses. According to eMarketer24 only 33% of customers think companies do a good job of responding to engagement on social media channels. So, we've put together a simple list of questions that should be asked and answered before you post.
Who is your customer? Knowing who your customer is will help you construct your post.
What is the objective of your post? Are you introducing a new product or service; announcing an event?
Is that what's important to them? Be sure that whatever you post is important to your customer. Stay relative.
What action should they take? Engagement is the name of the game in social media. Be sure that you ask for what you want when you post, i.e. "RSVP" by clicking here", "Comment and tag a friend to enter".
Once you are clear on who your customer is, what is important to them, and what action you want them to take then, you'll have a much more clear idea on What To Post On Social Media. Let us know how you do.
Need help with your small business marketing or website? Contact NAVARRO CREATIVE GROUP and let's talk about ways that we can help you build your on-line presence and marketing strategy.
615.562.1002 | [email protected] | www.NavarroCreativeGroup.com
Connect With Us
What does Facebook's new algorithm change mean to small businesses?
It's been said before, and we'll say it again and again, "Social media is about being social". As a business owner, it is your opportunity to engage your followers - to discover what they want and need from you. So, what does Facebook's new algorithm change mean?
More than a billion people have joined Facebook, and today they share a flood of stories every day. With that in mind, the goal of Facebook's new algorithm change (06/29/2016) is to show people the stories that are most relevant to them; an update to News Feed that helps them see more posts from friends and family. AFTER friends and family, people have two other strong expectations when it comes to their News Feed and this is where small business owners need to pay special attention:
Your feed should inform. People expect the stories in their feed to be meaningful to them — and we have learned over time that people value stories that they consider informative. Something that one person finds informative or interesting may be different from what another person finds informative or interesting — this could be a post about a current event, a story about your favorite celebrity, a piece of local news, or a recipe. We're always working to better understand what is interesting and informative to you personally, so those stories appear higher up in your feed.
More than a billion people have joined Facebook, and today they share a flood of stories every day.
Your feed should entertain. We've also found that people enjoy their feeds as a source of entertainment. For some people, that's following a celebrity or athlete; for others it's watching Live videos and sharing funny photos with their friends. We work hard to try to understand and predict what posts on Facebook you find entertaining to make sure you don't miss out on those.
We view our work as only 1 percent finished — and are dedicated to improving along the way. As we look for ways to get better, we will continue soliciting feedback. We will be as open as we can — providing explanations in News Feed FYI wherever possible and looking for opportunities to share how we work. ~ Building A Better Newsfeed for You? Facebook 06/29/16
Ask yourself these three questions the next time you go to post on your Facebook timeline:
1. Is my post adding value?
2. Is my post entertaining? Will it allow my followers / potential followers to get to know and trust me and my business?
3. How is my post setting me apart from my competition?
Social media is about being SOCIAL. Share information that speaks to your audience. Share information that THEY find valuable; and if you don't know what that is, take the time to find out. You are the designer of your success.
Need help with your small business social media marketing? Contact NAVARRO CREATIVE GROUP and let's talk about ways that we can help you build your on-line presence and marketing strategy.
615.562.1002 | [email protected] | www.NavarroCreativeGroup.com