Social media has topped the marketing world and word of mouth continues to be the most powerful tool for marketing a business. Today, with all the social media platforms we are connected on it is easier than ever for customers to share their best and worst experiences, and online reviews are the word-of-mouth for this day and age.
Importance of Online Reviews
Online review sites such as Yelp, Google Business Profile, and Facebook (META) play a crucial role in determining how successful your business can be.
Accessibility
Nowadays people have access to reviews at their fingertips. They are incredibly easy to find thanks to search engines, apps, and reviews features on social media platforms.
Visibility
Reviews for a business become viewable to consumers as soon as they search for something. For example, a Google search for "website design" near me pulls up the following local results and displays the ratings for each business. There is no having to search and find it, it is simply there.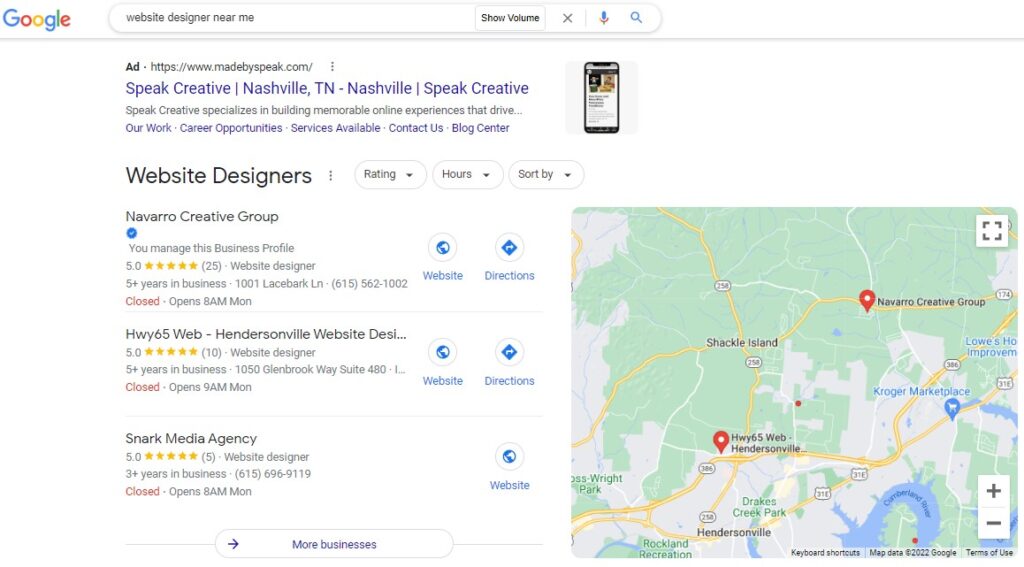 How Do Online Reviews Help Your Business?
Not only can reviews help leave positive information about your business online, but they can help your business in SO many ways, including your marketing efforts.
Search Engine Optimization
The more reviews you have the better the chance that your business will show up higher on the Search Engine Results Pages (SERPs). Greater exposure, heck yes! It's not uncommon for small businesses' Yelp, Google Business Profile, or Facebook (META) pages to rank higher than their website because of the number of reviews on those sites.
Buyer-Decision Making
Consumers don't just come across online reviews in their online adventures, they intentionally head to review sites and directories to scope out businesses that meet their needs.
9 out of 10 consumers read reviews for local businesses before making a purchase!
And, future clients look at three things:
(1) ratings and recommendations
(2) total number of reviews
(3) basic business info.
After they look at those 3 things, they begin reading individual reviews to learn what to expect or determine if they want to use their services.
How Influential Are Online Reviews?
Well, let's take a look at Facebook (META), one of the biggest online review platforms between Google Business Profile and Yelp. Customers can leave recommendations and rank their experience between 1 and 5 stars. The average is used for a business's final rating. Users are able to see the rating without clicking through to the Facebook (META) page so it's easy to gain potential customers' trust!
FACT: 84 percent of people trust online reviews just as much as a personal recommendation!
They're more likely to trust these reviews since they are written by customers who have had real experiences with these businesses.
How To Get Reviews
DON'T BE AFRAID TO ASK FOR REVIEWS.
There are many ways for you to ask your customers for reviews:
Send a follow-up email. Ask them about their experience, and if they would please leave a review for your business, BUT don't forget to include the link to your review page or Google Business Profile so they don't have to go on a journey to find it.

You can also use a third

-

party review software program, such as Reputation Management found in our LaunchPad solution

that will help you with review monitoring.

Have a sign

in your store

at

the

point of sale asking them to leave a review on Facebook (META), Google Business Profile, or any other review platform

about their experience.
DON'T BE AFRAID TO RESPOND TO REVIEWS (POSITIVE & NEGATIVE)
89% of prospective buyers read the business owner's response to online reviews!
It is so important to respond to reviews whether they are good or bad because the way you respond shows your customer service commitment. When responding to great reviews, thank them for their time and support and tell them how much you appreciate their business. When responding to negative reviews, ask what you can do to make the situation better and what you can do differently so their experience next time is a great one. State that your main priority is to always give every customer a great experience.
Now that you understand why reviews are essential to your business, we are going to leave you with a few statistics that will remind you just how important reviews really are. Feel free to save it and keep it someplace where you and your team will see it as a gentle reminder and comment with any questions or to tell us how reviews have helped you and your business.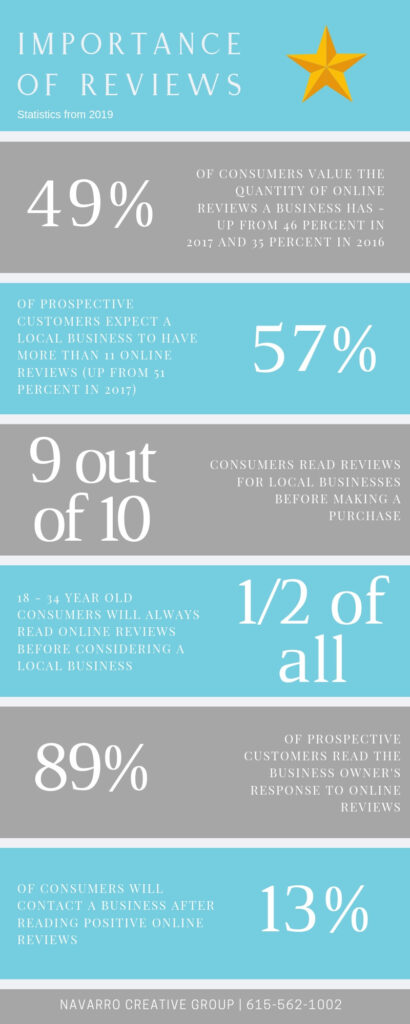 Revised 05/06/2022.
---
Do you need more help with Review Management? We have a solution that will help you.
Do you need help with your Business Marketing? Contact us today
Other articles your might enjoy:
How to Respond to Negative Reviews
7 ways to get and give customer love