Hey everybody! It's Saige. Recently, Wendy and I attended Nashville Blogger Bash. WOW! What an experience it was. The Nashville Blogger Bash is a weekend conference that connects a diverse group of digital content creators, including bloggers, social media influencers, podcasters, vloggers, and digital marketers. Inspirational, badass women and men were around each corner, from dynamic blogger Michelle Ferreri to The Curvy Fashionista creator Marie Denee. There were so many great snippets of information shared that lit my soul on fire, and I want to share them with you!
Find out who you are. And do it on purpose. – Dolly Parton
Money is the after-effect of passion.
Your mindset is the ONLY thing holding you back.
Replace the world sell with share.
Do not lose your AUTHENTICITY.
Invest in you to invest in your business.
You have a reputation and THAT'S value.
My overall takeaway from Nashville Blogger Bash: Never stop learning. Never stop growing. No matter how much you believe you know, the world never stops providing opportunities for you to grow, and your mind craves it! If you are currently blogging, keep it up, and I hope this inspires you to continue. If you aren't blogging, think about starting one because the effects are more than you've ever dreamed!
4 Tips For A Great Holiday Marketing Strategy
You may be thinking, 'It's summertime, what is Navarro Creative Group doing talking about the holidays?'. Well, friends, the holidays will be creeping up on us before we know it and we want you prepared for your best sales of the season! The National Retail Federation (NRF) reports, "each year, about 40 percent of consumers begin their holiday shopping before Halloween." That's right, BEFORE HALLOWEEN! For the most effective marketing, begin at least six months in advance, this allows you ample time to create consistent and concise messaging, devise a schedule, and plan delivery methods. Once the rush of the holidays comes, you can breathe knowing that you have set your marketing, and press GO!  Ready to start planning? Continuing reading, "4 Tips for a Great Holiday Marketing Strategy".
1. Set Your Goals
Before you can begin executing your marketing, it is essential to set your holiday S.M.A.R.T (specific, measurable, attainable, realistic, and time-bound) Goals. Setting S.M.A.R.T goals will help you to refine your ideas, define the purpose, and shed light on what marketing messages and avenues you need to focus. It will also allow you to use your time and resources wisely and follow how successfully your marketing strategy is working.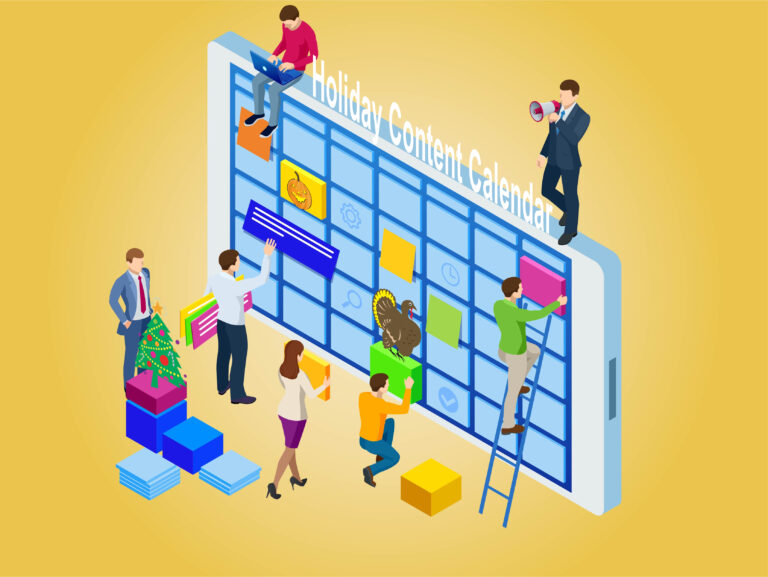 2. Prepare your Content
It is never too early to begin creating your holiday-specific content. Now is the time to organize your photos, videos, and graphics so that you are prepared to publish them to your website, social media pages, and newsletters in time for the holidays. If you work with an agency or graphic designer, schedule a planning session so that they can design great content and print collateral that will make your message stand out!
Content calendars are a lifesaver, too and will help free up a lot of your time. They keep on track and are a great way to stay organized so that you don't forget when specific posts or events need to be published. Being prepared with social media posts ready to go live and an email blast scheduled will guarantee that you don't forget anything during the rush of the holidays.
3. Advertise
It is never too early to start advertising your holiday events. By starting early, you allow extended exposure to your event, which may mean more reach and interest. One of our favorite forms of advertising is Facebook Ads. If you are marketing an event, start by creating a Facebook Event page and use Facebook Ads to gain exposure. Be sure also to add your event to community magazines, and online calendars, and remember to UPDATE YOUR WEBSITE!
4. Increase Exposure
During the holidays you want to get as much exposure as you possibly can so you can have your best sales of the season. Be sure to:
Update your email list. Subscribers have already indicated that they are interested in your product or service by signing up on your email list. Be sure to keep them in the loop and informed about your activities, events, and sales.
 Collaborate with community organizations and like businesses. Cross post content on each other's Facebook pages and other social platforms so that you can reach a new audience and clientele.
 Consider throwing an influencer get together. Invite local influencers to get to know you, your business and/or event and write about it on their social pages or Blogs. Be sure to reach out to influencers with a large following which consists primarily of your target audience.
Need more ideas on how to Plan Your Holiday Marketing Strategy? Let's Talk! Contact us about how we can help your business.
website design | e-commerce sites | logos & graphics | social media
Social media has topped the marketing world and word of mouth continues to be the most powerful tool for marketing a business. Today, with all the social media platforms we are connected on it is easier than ever for customers to share their best and worst experiences, and online reviews are the word-of-mouth for this day and age. 
Importance of Online Reviews
Online review sites such as Yelp, Google, and Facebook play a crucial role in determining how successful your business can be.  
Accessibility 
Nowadays people have access to reviews at their fingertips. They are incredibly easy to find thanks to search engines, apps, and reviews features on social media platforms.  
Visibility 
Reviews for a business become viewable to consumers as soon as they search for something. For example, a Google search for "website design" near me pulls up the following local results and displays the ratings for each business. There is no having to search and find it, it is simply there.  
How Do Online Reviews Help Your Business?
 Not only can reviews help leave positive information about your business online, but they can help your business in SO many ways, including your marketing efforts. 
Search Engine Optimization 
The more reviews you have the higher the chance that your business will show up on the first page of Google.  First-page exposure, heck yes! It's not uncommon for small business' Yelp, Google, or Facebook pages to rank higher than their website because of the number of reviews on those sites.  
Buyer-Decision Making 
Consumers don't just come across online reviews in their online adventures, they intentionally head to review sites and directories to scope out businesses that meet their needs.
9 out of 10 consumers read reviews for local businesses before making a purchase!
And, future clients look at three things: 
(1) ratings and recommendations
(2) total number of reviews
(3) basic business info. 
After they look at those 3 things, they begin reading individual reviews to learn what to expect or determine if they want to use their services.  
How Influential Are Online Reviews?
Well, let's take a look at Facebook, one of the biggest online review platforms between Google and Yelp. Customers can leave recommendations and rank their experience between 1 and 5. The average is used for a business's final rating. Users are able to see the rating without clicking through to the Facebook page so it's easy to gain potential customers trust! 
FACT: 84 percent of people trust online reviews just as much as a personal recommendation!
They're more likely to trust these reviews since they are written by customers who have had real experiences with these businesses.  
How To Get Reviews 
DON'T BE AFRAID TO ASK FOR REVIEWS. 
There are many ways for you to ask your customers for reviews: 
Send a follow-up email. Ask them about their experience, and if they would please leave a review for your business, BUT don't forget to include the link to your review page or Google Business Listing so they don't have to go on a journey to find it. 

 

You can also use a third

-

party review software program, such as 

BirdEye

 or 

Get More Reviews

, that will help you with review monitoring.

 

Have a sign 

in your store 

at 

the

 point of sale asking them to leave a review on Facebook, Google, or any other review platform

 

about their experience. 

 
DON'T BE AFRAID TO RESPOND TO REVIEWS (POSITIVE & NEGATIVE) 
89% of prospective buyers read the business owner's response to online reviews! 
It is so important to respond to reviews whether they are good or bad because the way you respond shows your customer service commitment. When responding to great reviews, thank them for their time and support and tell them how much you appreciate their business. When responding to negative reviews, ask what you can do to make the situation better and what you can do differently so their experience next time is a great one. State that your main priority is to always give every customer a great experience. 
Now that you understand why reviews are essential to your business, we are going to leave you with a few statistics that will remind you just how important reviews really are. Please feel free to save it and keep it someplace where you and your team will see it as a gentle reminder.  Feel free to comment with any questions or to tell us how reviews have helped you and your business. 
CONTACT us and let's talk to discuss how our services can help you and your business! 
website design | e-commerce sites | logos & graphics | social media  
As small business owners, we get so busy focused on our daily operations that we forget we have one of the most powerful, effective marketing methods for small business right in front of us, our customers!
Word of mouth has always been an incredibly reliable and effective method of marketing for business owners. After all, recommendations from a friend are trusted by 92% of consumers!
Word of mouth has always been an incredibly reliable and effective method of marketing for business owners. After all, recommendations from a friend are trusted by 92% of consumers!
With immediate access to family and friends at our fingertips, i.e. smart phones and computers, your customers are your most powerful and effective marketing method, all you need to do is ASK.
5 Easy Steps to Harnessing the Most Powerful, Effective Marketing Methods for Small Business
Let your customers know that you are on social media. Post signs in your store on the door or by the checkout counter.
Ask your customers to check-in with you on their social media pages.
Set up a "selfie station" in your store. Encourage your customers to take a selfie with their purchases and post it to their social media pages. Create a unique hashtag for your store and ask your customers to use it when they post.
Ask your customers to review your business on Google, Facebook, Yelp etc.
Establish a routine to check for posts and shares. Share your customers' posts on your social media pages and be sure to thank them for their support!
Need help with your small business marketing or website? Contact NAVARRO CREATIVE GROUP and let's talk about ways that we can help you build your on-line presence and marketing strategy.
615.562.1002 | [email protected] | www.NavarroCreativeGroup.com 
Connect With Us
The Pokémon GO phenomena has taken the world by storm, and it's not just kids who are playing. Grade schoolers to Millennials, people of all ages are getting in on the action. In our own home, everyone from our eleven year old son to our 20 year old are hitting the streets in search of their next Poké catch. With over 20 million active users it is the hottest thing in augmented reality apps., and savvy businesses have figured out how to lure people in and take advantage of this Pop Culture craze.
Businesses Prosper Using Pokémon GO to Lure in Customers
How Pokémon GO Is Helping Small Business
Whether or not the developers of Pokémon considered this when they launched the app., Pokémon GO has helped businesses attract new customers in big ways. By purchasing items called Lures, small businesses place the lures at PokéStops to attract Pokémon. PokéStops are nearby places where players can physically visit to stock up on free accessories and items like PokéBalls. By placing Lures at nearby PokéStops, businesses have seen as much as a 75% increase in revenue from the added foot traffic from Pokémon Go. And, according to Inc.com, it would only cost about $1.19 an hour to lure in a steady stream of new customers as demonstrated by L'inizio's Pizza Bar in Queens who spent $10 on Lures, and in return saw a 30 percent increase in sales almost instantly. ~Bloomberg
It's not just small businesses that are getting in on the action either. Recently, a local not-for-profit, Historic Rock Castle in Hendersonville, TN, got in on the action by dropping lures to draw in locals and tourists. They then offered a special discount on their tour packages when visitors showed they had the app installed on their phone.
4 Ways Small Businesses Can Use Pokémon GO to Attract Customers
Direct users to your location. Request that your business be a PokéStop by completing a simple form online.
Find out where PokéStops are nearby and purchase lures to attract Pokémon and ultimately players.
Lure nearby Pokémon GO players into your business by offering a special discount or offer.
Post pictures on your social media sites of customers playing Pokémon Go in or near your business. Better yet, download the app to your phone and take screen shots of yourself and customers catching Pokémon and use the hashtags #pokemongo and #pokemon.
Some businesses have already seen a 75% increase in revenue from the added foot traffic from Pokémon GO

Need help with your small business marketing or website? Contact NAVARRO CREATIVE GROUP and let's talk about ways that we can help you build your on-line presence and marketing strategy.

615.562.1002 | [email protected] | www.NavarroCreativeGroup.com

Connect With Us
What does Facebook's new algorithm change mean to small businesses?
It's been said before, and we'll say it again and again, "Social media is about being social". As a business owner, it is your opportunity to engage your followers - to discover what they want and need from you. So, what does Facebook's new algorithm change mean?
More than a billion people have joined Facebook, and today they share a flood of stories every day. With that in mind, the goal of Facebook's new algorithm change (06/29/2016) is to show people the stories that are most relevant to them; an update to News Feed that helps them see more posts from friends and family. AFTER friends and family, people have two other strong expectations when it comes to their News Feed and this is where small business owners need to pay special attention:
Your feed should inform. People expect the stories in their feed to be meaningful to them — and we have learned over time that people value stories that they consider informative. Something that one person finds informative or interesting may be different from what another person finds informative or interesting — this could be a post about a current event, a story about your favorite celebrity, a piece of local news, or a recipe. We're always working to better understand what is interesting and informative to you personally, so those stories appear higher up in your feed.
More than a billion people have joined Facebook, and today they share a flood of stories every day.
Your feed should entertain. We've also found that people enjoy their feeds as a source of entertainment. For some people, that's following a celebrity or athlete; for others it's watching Live videos and sharing funny photos with their friends. We work hard to try to understand and predict what posts on Facebook you find entertaining to make sure you don't miss out on those.
We view our work as only 1 percent finished — and are dedicated to improving along the way. As we look for ways to get better, we will continue soliciting feedback. We will be as open as we can — providing explanations in News Feed FYI wherever possible and looking for opportunities to share how we work. ~ Building A Better Newsfeed for You? Facebook 06/29/16
Ask yourself these three questions the next time you go to post on your Facebook timeline:
1. Is my post adding value?
2. Is my post entertaining? Will it allow my followers / potential followers to get to know and trust me and my business?
3. How is my post setting me apart from my competition?
Social media is about being SOCIAL. Share information that speaks to your audience. Share information that THEY find valuable; and if you don't know what that is, take the time to find out. You are the designer of your success.
Need help with your small business social media marketing? Contact NAVARRO CREATIVE GROUP and let's talk about ways that we can help you build your on-line presence and marketing strategy.
615.562.1002 | [email protected] | www.NavarroCreativeGroup.com
In today's digital world where in-boxes are crammed with spam and social media seems to be choking out traditional marketing, is email marketing even relevant and worth the time or the investment for small business owners?
Is email marketing dead?
A big question on the minds of many small business owners today is, "Is Email Marketing Dead?" Well, the answer might surprise you. Email marketing was never dead. As an advertising and marketing method it's constantly created a lot more ROI than almost anything else and 68% of customers still choose to obtain advertising deals through email (via emailisnotdead.com). It was stated dead some time back because social networks took off and everyone assumed that was going to cut email out as a viable marketing option.
In fact, though, email is stronger and more in demand than ever. A recent Adobe study finds that email is addicting and highlights that:
Americans are addicted to email and check it around the clock
People are guilty of checking email in awkward locations or times
Email is and will remain a cornerstone of workplace culture
Millennials check email more frequently than other age groups
Email marketers need to do a better job to improve conversion rates
Even fortune 500 businesses and social media mega sites speak as much concerning building an email checklist as they talk about obtaining Facebook likes. In a survey for the 2015 State of Small Business record, Inc.com reported that 46% of small companies stated they utilize email marketing as a top marketing tactic.
In addition, according to emailsnotdead.com people prefer email for commercial communications where:
81% of US online shoppers are more likely to make additional purchases, either online or in a store, as a result of emails based on previous shopping behaviors and preferences. - Harris Interactive
72% of consumers say that email is their favored conduit of communication with companies they do business with.
61% say they like to receive promotional emails weekly and 28% want them even more frequently. - MarketingSherpa (2015)
What's Different in Email Marketing Today?
Today's customer is tech savvy, busy and has no time or desire for spam. That means it is up to you to make your business stand out from all the others. No matter what form of marketing you use, or your industry, the right technique and material should make the distinction between mail being trashed or changed into an earnings.
How to make your email stand out and get noticed
Know what type of information your customers are willing to share. When asking for a customer's email keep it simple and relevant to your industry or business. Most people are not willing to share more than their name and email address unless it is relevant to your business and their need.
Personalize your emails to your customers' interests, habits or life events. According to a 2016 study conducted by Adlucent, 71% of consumers said they would prefer ads tailored to their personalized interests and shopping habits.
Incite curiosity.
Option 1. Possibly the most overlooked home page opportunity in the universe...?
Option 2. Which home page kills it? A comparative analysis
The first subject line did 4.6 percent better than the second one. This means curiosity does boost your email open rates. (via Inc.com )
Be explicit about the value consumers will receive when they share personal information. Providing offers and discounts in exchange for an email or mailing address can drive consumer action.
Test and optimize your campaign. The A/B testing feature in email is a way to let you test two slightly different emails to your audience so that you can obtain information on which triggered the most engagement and then use the most effective email to send as a final email send.
Need help with your small business marketing or website? Contact NAVARRO CREATIVE GROUP and let's talk about ways that we can help you build your on-line presence and marketing strategy.
615.562.1002 | [email protected] | www.NavarroCreativeGroup.com
Connect With Us