4 Tips For A Great Holiday Marketing Strategy
You may be thinking, 'It's summertime, what is Navarro Creative Group doing talking about the holidays?'. Well, friends, the holidays will be creeping up on us before we know it and we want you prepared for your best sales of the season! The National Retail Federation (NRF) reports, "each year, about 40 percent of consumers begin their holiday shopping before Halloween." That's right, BEFORE HALLOWEEN! For the most effective marketing, begin at least six months in advance, this allows you ample time to create consistent and concise messaging, devise a schedule, and plan delivery methods. Once the rush of the holidays comes, you can breathe knowing that you have set your marketing, and press GO!  Ready to start planning? Continuing reading, "4 Tips for a Great Holiday Marketing Strategy".
1. Set Your Goals
Before you can begin executing your marketing, it is essential to set your holiday S.M.A.R.T (specific, measurable, attainable, realistic, and time-bound) Goals. Setting S.M.A.R.T goals will help you to refine your ideas, define the purpose, and shed light on what marketing messages and avenues you need to focus. It will also allow you to use your time and resources wisely and follow how successfully your marketing strategy is working.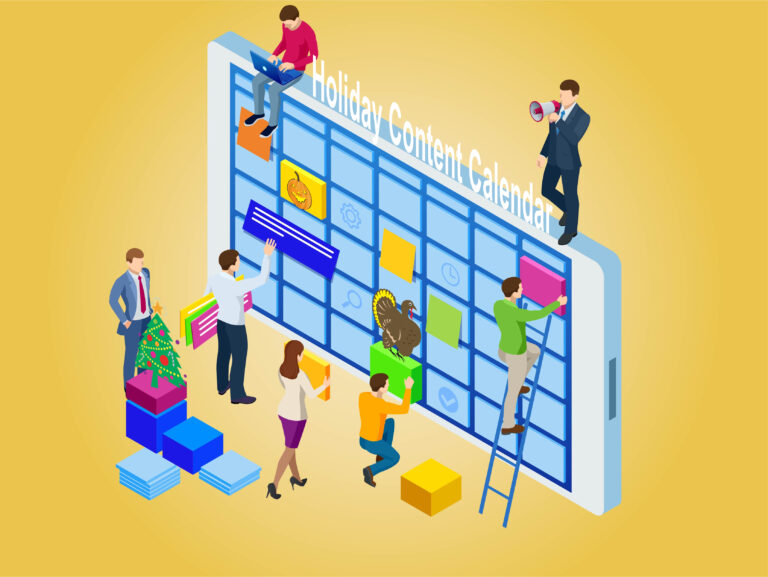 2. Prepare your Content
It is never too early to begin creating your holiday-specific content. Now is the time to organize your photos, videos, and graphics so that you are prepared to publish them to your website, social media pages, and newsletters in time for the holidays. If you work with an agency or graphic designer, schedule a planning session so that they can design great content and print collateral that will make your message stand out!
Content calendars are a lifesaver, too and will help free up a lot of your time. They keep on track and are a great way to stay organized so that you don't forget when specific posts or events need to be published. Being prepared with social media posts ready to go live and an email blast scheduled will guarantee that you don't forget anything during the rush of the holidays.
3. Advertise
It is never too early to start advertising your holiday events. By starting early, you allow extended exposure to your event, which may mean more reach and interest. One of our favorite forms of advertising is Facebook Ads. If you are marketing an event, start by creating a Facebook Event page and use Facebook Ads to gain exposure. Be sure also to add your event to community magazines, and online calendars, and remember to UPDATE YOUR WEBSITE!
4. Increase Exposure
During the holidays you want to get as much exposure as you possibly can so you can have your best sales of the season. Be sure to:
Update your email list. Subscribers have already indicated that they are interested in your product or service by signing up on your email list. Be sure to keep them in the loop and informed about your activities, events, and sales.
 Collaborate with community organizations and like businesses. Cross post content on each other's Facebook pages and other social platforms so that you can reach a new audience and clientele.
 Consider throwing an influencer get together. Invite local influencers to get to know you, your business and/or event and write about it on their social pages or Blogs. Be sure to reach out to influencers with a large following which consists primarily of your target audience.
Need more ideas on how to Plan Your Holiday Marketing Strategy? Let's Talk! Contact us about how we can help your business.
website design | e-commerce sites | logos & graphics | social media
Social media has topped the marketing world and word of mouth continues to be the most powerful tool for marketing a business. Today, with all the social media platforms we are connected on it is easier than ever for customers to share their best and worst experiences, and online reviews are the word-of-mouth for this day and age. 
Importance of Online Reviews
Online review sites such as Yelp, Google, and Facebook play a crucial role in determining how successful your business can be.  
Accessibility 
Nowadays people have access to reviews at their fingertips. They are incredibly easy to find thanks to search engines, apps, and reviews features on social media platforms.  
Visibility 
Reviews for a business become viewable to consumers as soon as they search for something. For example, a Google search for "website design" near me pulls up the following local results and displays the ratings for each business. There is no having to search and find it, it is simply there.  
How Do Online Reviews Help Your Business?
 Not only can reviews help leave positive information about your business online, but they can help your business in SO many ways, including your marketing efforts. 
Search Engine Optimization 
The more reviews you have the higher the chance that your business will show up on the first page of Google.  First-page exposure, heck yes! It's not uncommon for small business' Yelp, Google, or Facebook pages to rank higher than their website because of the number of reviews on those sites.  
Buyer-Decision Making 
Consumers don't just come across online reviews in their online adventures, they intentionally head to review sites and directories to scope out businesses that meet their needs.
9 out of 10 consumers read reviews for local businesses before making a purchase!
And, future clients look at three things: 
(1) ratings and recommendations
(2) total number of reviews
(3) basic business info. 
After they look at those 3 things, they begin reading individual reviews to learn what to expect or determine if they want to use their services.  
How Influential Are Online Reviews?
Well, let's take a look at Facebook, one of the biggest online review platforms between Google and Yelp. Customers can leave recommendations and rank their experience between 1 and 5. The average is used for a business's final rating. Users are able to see the rating without clicking through to the Facebook page so it's easy to gain potential customers trust! 
FACT: 84 percent of people trust online reviews just as much as a personal recommendation!
They're more likely to trust these reviews since they are written by customers who have had real experiences with these businesses.  
How To Get Reviews 
DON'T BE AFRAID TO ASK FOR REVIEWS. 
There are many ways for you to ask your customers for reviews: 
Send a follow-up email. Ask them about their experience, and if they would please leave a review for your business, BUT don't forget to include the link to your review page or Google Business Listing so they don't have to go on a journey to find it. 

 

You can also use a third

-

party review software program, such as 

BirdEye

 or 

Get More Reviews

, that will help you with review monitoring.

 

Have a sign 

in your store 

at 

the

 point of sale asking them to leave a review on Facebook, Google, or any other review platform

 

about their experience. 

 
DON'T BE AFRAID TO RESPOND TO REVIEWS (POSITIVE & NEGATIVE) 
89% of prospective buyers read the business owner's response to online reviews! 
It is so important to respond to reviews whether they are good or bad because the way you respond shows your customer service commitment. When responding to great reviews, thank them for their time and support and tell them how much you appreciate their business. When responding to negative reviews, ask what you can do to make the situation better and what you can do differently so their experience next time is a great one. State that your main priority is to always give every customer a great experience. 
Now that you understand why reviews are essential to your business, we are going to leave you with a few statistics that will remind you just how important reviews really are. Please feel free to save it and keep it someplace where you and your team will see it as a gentle reminder.  Feel free to comment with any questions or to tell us how reviews have helped you and your business. 
CONTACT us and let's talk to discuss how our services can help you and your business! 
website design | e-commerce sites | logos & graphics | social media  
"People with goals succeed because they know where they're going." – Earl Nightingale
In life, we are all on an endeavor focused on achieving more and being more. So what helps us get to where we want to be in life? GOALS! But, if you've never actually accomplished ALL the goals you have set on your list, that's O.K., me either! Because today I am going to talk to you all about SMART goals and the smart ? way to set goals, so at the end of the year you can look back with a smile on your face and be happy that the goals you set were accomplished!
SMART goals are goals that are set with structure and trackability. Instead of ambiguous resolutions, SMART goals are like the building blocks to help you achieve those big dreams & make them a reality. In business, setting SMART goals is the most effective way to achieve the goals you have set.
I want you to think of a goal you want to set right now, personal or professional. To make your goal SMART, it needs to conform to the following criteria: Specific, Measurable, Achievable, Relevant and Timely.
S: Specific- What exactly is it that you want to achieve? The more specific you make your goal, the bigger the chance you'll achieve it. When you set SMART goals, you clarify the difference between 'I want to be a millionaire' and 'I want to make $100,000 this year.
When creating your goals ask yourself these 6 questions:
What exactly do I want to achieve?
Where?
How?
When?
With Who?
M: Measurable – Measurable goals means you can recognize exactly what it is you will see or hear. It means you break down your goals into measurable elements. You provide a way to evaluate your goal and achieve it using metrics or data targets. Defining your goal or objective makes it clearer, and easier to reach.
A: Achievable – Is your goal achievable? Is it possible to accomplish or attainable? That means researching if this goal makes sense. Is it realistic in a reasonable time scope for you to achieve? There is nothing wrong with shooting for the stars, but when you set small goals that are achievable, to reach your end goal, the feeling of accomplishment that will rush through your body will have you shouting WOO-HOO!
R: Relevant – Is reaching your goal relevant to you and your business? Does this goal make sense within your job functions? When you set your goals they should improve your business in some way. When setting your goals ask yourself this, "Does this pertain to my business and will it help the company grow?".
T: Time-Bound – Time is money! We all know deadlines are what makes us switch into action. So, for all your goals, set deadlines for yourself and your team and get going. An important detail is to keep your timeline realistic and flexible, that way you can keep morale high!
Now, Navarro Creative Group wants you to get out there, set your SMART goals, and reach for the stars this year! Want to sit down to discuss how we can make those goals become a reality? We would LOVE to! Just call us or email us to schedule a meeting and let's see how we can help!
The Team at Navarro Creative Group
It's the start of a New Year and you have high aspirations for an amazing 2017, and a big part of making your plans a reality includes a new website! Well, hiring a web designer or design firm can be a challenge, but it also offers a great opportunity to look at some great work, talk to some creative people and open up the process as you plan a website design or redesign. But beware of these...
5 Mistakes Small Businesses Make When Hiring A Web Designer
Don't Take Ownership. Some business owners make the mistake of not checking to ensure whoever registers their domain name does so under the business owner's name. It's very important to be sure you are the domain owner and administrative contact.
Go in blindly. While a simple website can likely be completed in a short turnaround, a larger-scale more complicated project can include hundreds of hours of work. Ask yourself these questions so that you can be very clear about your needs before meeting with any web-designer.

Who is your audience?
What are the goals of your website? Is your website for information only, to generate leads, or will you be selling on-line?
Why are having branding materials and style guidelines handy important?
When do you want to launch your website?
How will your website stand out? What type of content are you planning to include on the site? What makes it unique and appealing to your audience?

Have unrealistic cost expectations. The average web-designer will charge between $50.00 to $150.00 per hour and the average cost for a web-site ranges based on the complexity of the design and functionality. For those more complicated websites or those with shopping cart functionality, and let's not forget about good Search Engine Optimization (SEO) and content, it's reasonable to expect to pay more. You certainly can get a website designed for cheap but you probably won't be happy with the outcome. When choosing the cheapest option you may soon realize that there are too many limitations and that the website is not built to grow with you as your business grows. Remember what your mother told you, "You get what you pay for."
Think, "I can do it myself". Have you heard the saying, "Jack of All Trades, Master of None?" By trying to do everything yourself you hurt your chances of doing a few important things well. In contrast, by hiring the right professional, you'll also have the advantage of a strategic partner.
Commit to a long distance relationship. Your web designer will be one of the most important people in your life while you are launching or rebranding your business. When hiring a website designer, hire someone locally vs. someone overseas or in another state, and ASK QUESTIONS! Hiring a web designer with whom you can work closely and confidently with will provide you with a valuable resource and the best possible outcome - a great website that will grow with you as your business grows!
Need help with your small business marketing or website? Contact NAVARRO CREATIVE GROUP and let's talk about ways that we can help you build your on-line presence and marketing strategy.
615.562.1002 | [email protected] | www.NavarroCreativeGroup.com
Connect With Us